Nights Out with
The Sisterhood of 1970
December 13 2012

Sisters of the 70s (a/k/a Class of 70 Golden Girls) met last night, December 13, at Denise's house. We had yummy chicken parm, spaghetti, pizza, garlic knots and salad plus a fruity dessert. Delicious!
In attendance were the old faithfuls: Debbie Calandra, Joanne (Joanne said she'd be there with bells on, and she was; cute bell earrings), Denise, Karen and me. Laughs galore!
Let's see….oh yes, Karen got a new car with a blue tooth and while setting it up, the salesman asked her to test it and told her to call her husband on it. She says loudly into the blue tooth, "BIG DADDY!" John looks at her and says "WHAT????" She had to explain that her son's girlfriend's daughter calls John Big Daddy so that is how she has him listed in her phone. That was good for a big laugh. I can picture it! John must have been mortified…LOL! Joanne commented that Karen made Helen Keller drive because she wasn't used to the new car yet (Joanne can't see well at night, but then, who can??).
Joann's grandson has been asking for a bullmegazoid, so Frank told him to write a letter to Santa and ask for it. Well, he must have wanted to make sure he got it so he went on eBay to order it! LOL! One of the twins ratted him out and mom caught him just in time.
We all had a glass of eggnog with amaretto…yummy, except Debbie C. who opted for Pepsi. It was so good, going to buy myself some Amaretto and Eggnog!


We talked about baking cookies, the holidays, etc. The girls asked if there was a new man in my life…I explained I am done with men. Some offered comments that I am not allowed to print. Sorry. Of course Denise said she was very happy, as Larry sat in the chair behind her listening. Of course you are!! LOL!
So we are sitting there eating after having been there like a half an hour or more, and somebody's phone starts going off. So we are looking at each other wondering whose it was. Somebody said it's coming from that purse, which happened to be Karen's. So Karen goes to get it and looks at it and says, "Dinner with the girls at Denise's." We were laughing! Good thing she remembered on her own because that would have been too late. So we were saying next time we go out, we'll be sitting there eating and Karen's phone will go off in the middle of dinner reminding her to go to dinner with us.
Larry and Denise were wonderful hosts and it was a great night for us all! Larry is a good sport…drove all the way to Camden to get our food. Thanks Denise and Larry!
My writings are censored so this is the best I can do! Hope you all have a very Merry Christmas and may God bless you in the New Year with health and happiness.
Deb Nash
November 8 2012

The Sistas of the 70s met last night, November 8th, for their monthly dinner get together.
In attendance were Debbie Calandra, Karen, Joann, Denise and myself. We met at Coal Yards. We had delicious meals. Of course, Karen and I ordered the same exact meal right down to how we wanted our burgers cooked! Weird!
We celebrated my birthday, which is tomorrow. They made the waitress sing to me. Bah humbug…not happy to join the club!! LOL!
Conversation included talk about our loved ones and other things coming up. Debbie C. enlightened us on the winter coats of deer. Did you know that they don gray coats for the cold weather? Neither did I, but Deb says she saw them in her back yard with their gray furry coats on. Then there is the Zoosk incident, where she clicked on Zoosk (singles site) on facebook and we all got invitations to check her out. She thought it was someplace you go to look at people's pictures, bless her heart. She's learning though.
Denise is taking an art class and totally enjoying it. She and Larry are planning a trip in November to Niagara Falls. They like to freeze so they thought November would be a good time to go.
We laughed a lot of the night. It was a lot of fun. Our next meeting will be at Denise's house for our Christmas gift exchange. That will be on the 13th of December at 6 pm. All sisters are welcome to come. We will pitch in $10 and Denise will supply the meal. Bring a gift to exchange if you decide to come.
The Sisters of the 70s met tonight at Deb Calandra's new house. What a gorgeous house! God bless Bob and Deb. Such a nicely arranged, large and roomy floor plan. Nice cozy fireplace in the living room. Beautiful.
In attendance were Karen, Deb Pugliese, Joann, Denise, Debbie C. (of course) and me, Deb Nash. Conversation was mainly on classmates we hadn't seen in a while, new tv shows, Deb's house and of course Danielle's (Deb's daughter) wedding. Deb brought pictures to share and we ooohhhed and ahhhhed over the beautiful dresses, etc.
We discussed things that had happened to us when we were in junior high and high school, about the tough girls we we afraid of because they would just as soon as beat you to death as look at you...lol! We named a few but can't divulge who we were talking about. Joann was surprised and wondered where the hell she was that she didn't know that those girls were bullies.
Joann's hair is red now...I don't remember it being red, or at least AS red...but apparently she colored it herself and ended up with a few different colors so her hairdresser had to help her out. Looks really nice though. Ooops, was I supposed to say anything Joann? You're the one who asked for the minutes...LMAO!!
We had yummy pizza, sausage bread and a nice salad. Deb had fall scenery paper plates that she used as chargers for our plates. We didn't know if we were supposed to use the actual plates underneath or the paper plates, so we tried to fit our food on the little luncheon paper plates. It was funny. You just can't teach old dogs new tricks.
Deb had bought some really fancy and nice pastries from Joann's cousins pastry shop in Utica. I was the first to take a cookie, so I spotted the almond paste and took that. Saw there was another one too, but wanted to be polite and wait for the tray to come back around. Okay, Denise's turn next...she took a pistachio cupcake...the other almond cookie is still safe...next to Joann, who took half a peanut butter cupcake. Good, good. Now Debbie Pugliese...good, she took a cupcake. Just gotta get it past Karen, who I see eyeing the cookie and we had just talked about how much we LOVE almond paste cookies. No way that cookie is going to make its' way back around to me. It didn't. Geez Karen, what the hell was wrong with the cupcake?
Asked Deb if she had coffee. She said yeah, Bob had made it and all she had to do was the push the button. So, she pushed the button and we sat down. A while later I saw her get up and then she called me over...the coffee was not brewing and wanted me to figure out how her coffee pot works. Bob had gotten it all ready, bless his heart. Deb said "If I don't like it, I don't make it." We finally put our heads together and figured it out. These new fangled machines...
Denise showed us pictures of the very tall trees in her yard that got cut down today. She got a new iPhone 4s and was showing it off. She and Deb Pugliese were comparing the different uses. I showed pictures of my naked granddaughter and Joann said something about being surprised about having a naked picture of her. Assured her it was sent to me by her mom...it was okay. Gotta love Joann...she worries about stuff like that. LOL!
We celebrated Debbie P's and Joann's birthdays. Happy birthday sistas!! Two more bite the dust. The next dinner is on November 8th, Thursday night. Not sure where yet. I have to decide because we are celebrating my birthday. Details to follow later. Ciao!
SISTERS' NIGHT OUT
June 23, 2012


Sisters' night out in June was held at Fuji Restaurant in Rome on June 23rd. Judi was home visiting and we had a full house that night. In attendance were Judi, Donna Pugliese, Joanne, Karen, Debbie Calandra, Denise Desimone and me.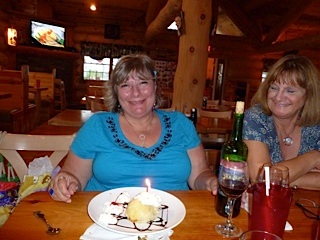 Judi brought in special wine from California, a white and a red in celebration of the gathering.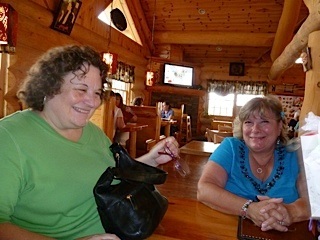 When it came time to order, nobody knew what to order so we just ordered what we thought we'd like. Karen had been there for lunch so had an idea of what to order, and what not to order. It was interesting to say the least.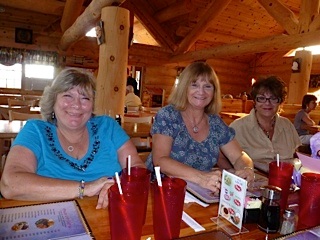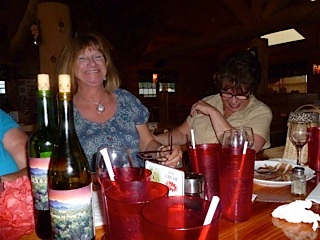 Thanks to Judi, we sweated through the entire meal. Initially they had us at a table right under the air conditioner, but Judi didn't think we'd want the air blowing on us so she had us moved down to the last table by the kitchen. Well, she had our best interests at heart I guess. Just didn't work out like she thought it would. Thanks anyway Jude!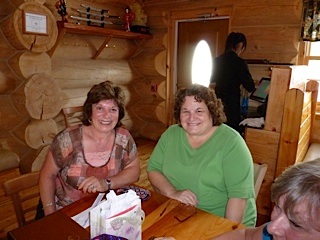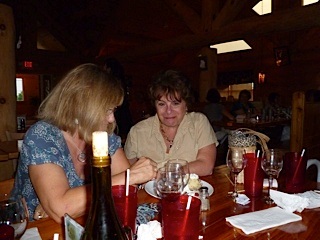 Not really sure what the topics of conversation were. Debbie C. was leaving for North Carolina the next day and then was going to move the day after she got back. She is all moved in now and enjoying her new home.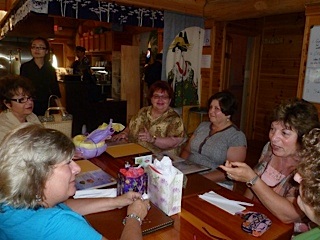 We talked about Dennis coming to Rome that Saturday and what we were going to do when he came. Excited to see him.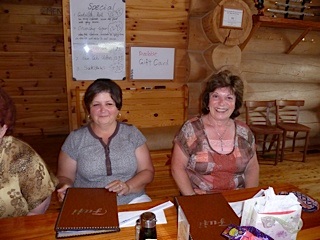 We celebrated Denise turning 60. We all drank to our 60th this year, except for me cuz I'm not having anymore birthdays. I'm staying 59.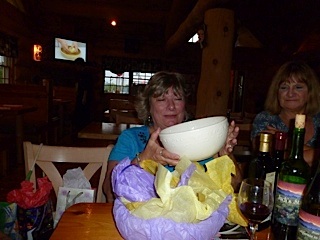 The next gathering for our monthly dinner will be on July 31st; details to follow.
April 17, 2012





The Sistas had dinner at Bella Mia in North Utica on Tuesday, April 17th. In attendance were Karen, Debbie C., Debbie N., Dianne and Denise. The food was EXCELLENT! We highly recommend it.





Conversation was light and fun, lots of laughs. Talked about Debbie C's new house and the floor plan. We talked about not wanting houses and looking for something with minimal upkeep. Dianne said she'd love a condo, no yard, etc. Karen and I concurred; Denise and Debbie both have two houses, go figure! LOL!





We discussed having a mini reunion when Judi comes home in June...maybe just a small gathering of Romans and some out of towners (Phil and Gloria, Dennis, etc.). A Friday at Bucky's would be great, as he has the happy hour munchies out, the open deck where we could sit outside, etc., but we also know it may be hard for the out of towners to get in on a Friday that early. We will toss around some ideas. Judi is here from June 8th till July 2nd, so hopefully somewhere in that span of time we can do it. We also have Saneen and Ellie and Karen K. coming in late July for a few days. Saneen arrives on Sunday evening, July 29th and leaves on Thursday, August 2nd. So fellow classmates, put your thinking caps on and let's start forming a plan.





The next dinner is at China House on Wednesday, May 23rd. We will meet there at 6 pm. All 70s Sisters are invited to attend. The more the merrier!! Love to all!



Deb Nash


Monday, March 26, 2012

The Sisters of the 70s met at Teddy's Restaurant on Monday, March 26th. In attendance were Karen, Debbie Calandra, Joanne, Denise and Deb Nash. We celebrated the big 60 for Debbie C. and Karen. Debbie Pugliese was not able to attend due to the death of her brother. Our sincere sympathy and condolences to her and her family.
Karen brought a balloon on which she had written "Over the Hill" with a 60 on it and tied it to Debbie C.'s chair. We all shared our thoughts and horror at turning 60 this year. We discussed how much longer we have to live. After that dinner, I went home and got drunk.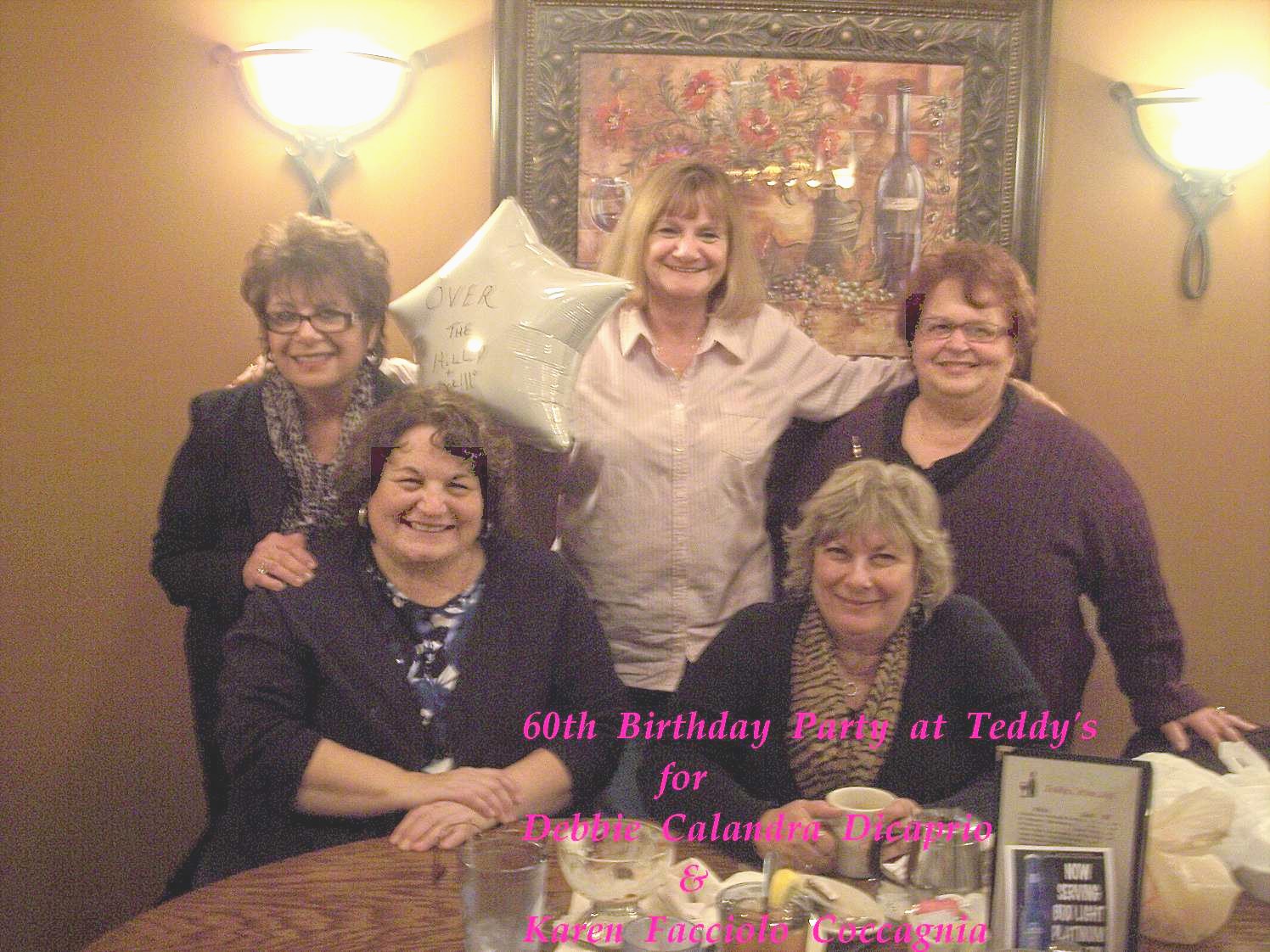 Debbie C's son cooks at Teddy's so he made us two huge appetizers on him: Italian Nachos which were outstanding (his own creation, I might add) and a sampler platter. By the time our meals came, we were so stuffed we could barely eat!
Conversation was varied. We talked about Denise's dad who is in the hospital and recovering nicely from his episode, thank God. It was a close call for him so keep him in your prayers. Deb C's house is coming along nicely. I went to see it the other day as it is only right down the road from me. Looks really nice and I can't wait to see the inside. She is packing and preparing to move. Her old house is on the market which is a pain in the rump because you always have to be prepared for strangers walking through your house, opening closets and cupboards…been there, done that many times. We wish her good luck in selling her old house and best wishes for good times in the new one.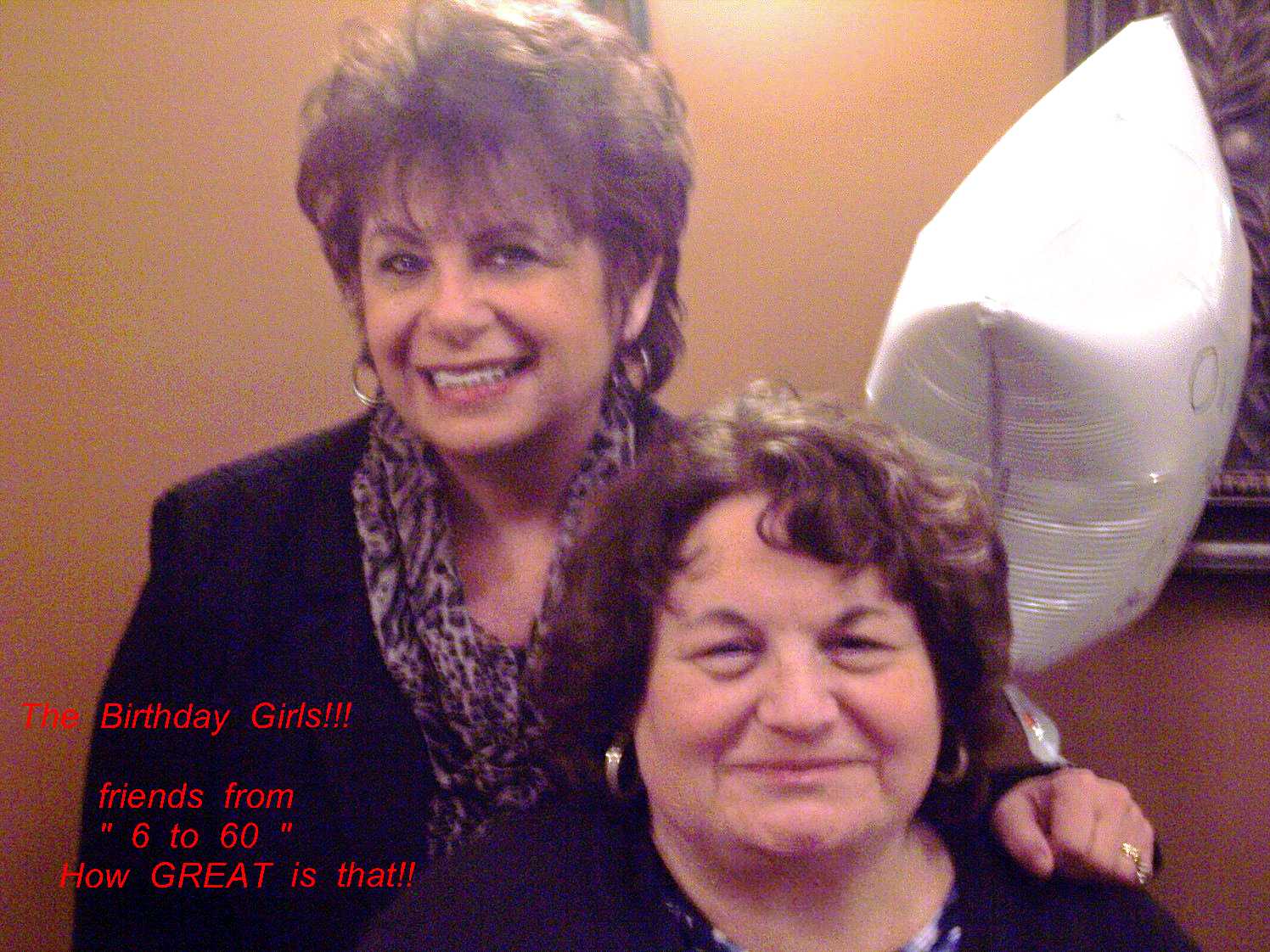 The next dinner is on April 17th at Bella Mia's in Utica. Rome sisters will meet at Staples parking lot at 5:30.
Hope you all have a wonderful and blessed Easter! Love to all.
Deb Nash
Wednesday, January 18, 2012

The Sisters of the 70s met Wednesday night for their monthly dinner at CPJ's in Rome. Full house except for Deb Pugliese who was greatly missed. In attendance were Dianne Bartolotti, Debbie Calandra, Denise Desimone, Joanne Rostato, Karen Facciolo and me. It was great to have Joanne and Dianne with us.
Conversation covered a lot of different topics. Deb Calandra recommended the new Caribbean Connection restaurant on W. Dominick Street. She and her family had lunch there and she said it was delicious, so that's where the sisters are going for our next dinner in February.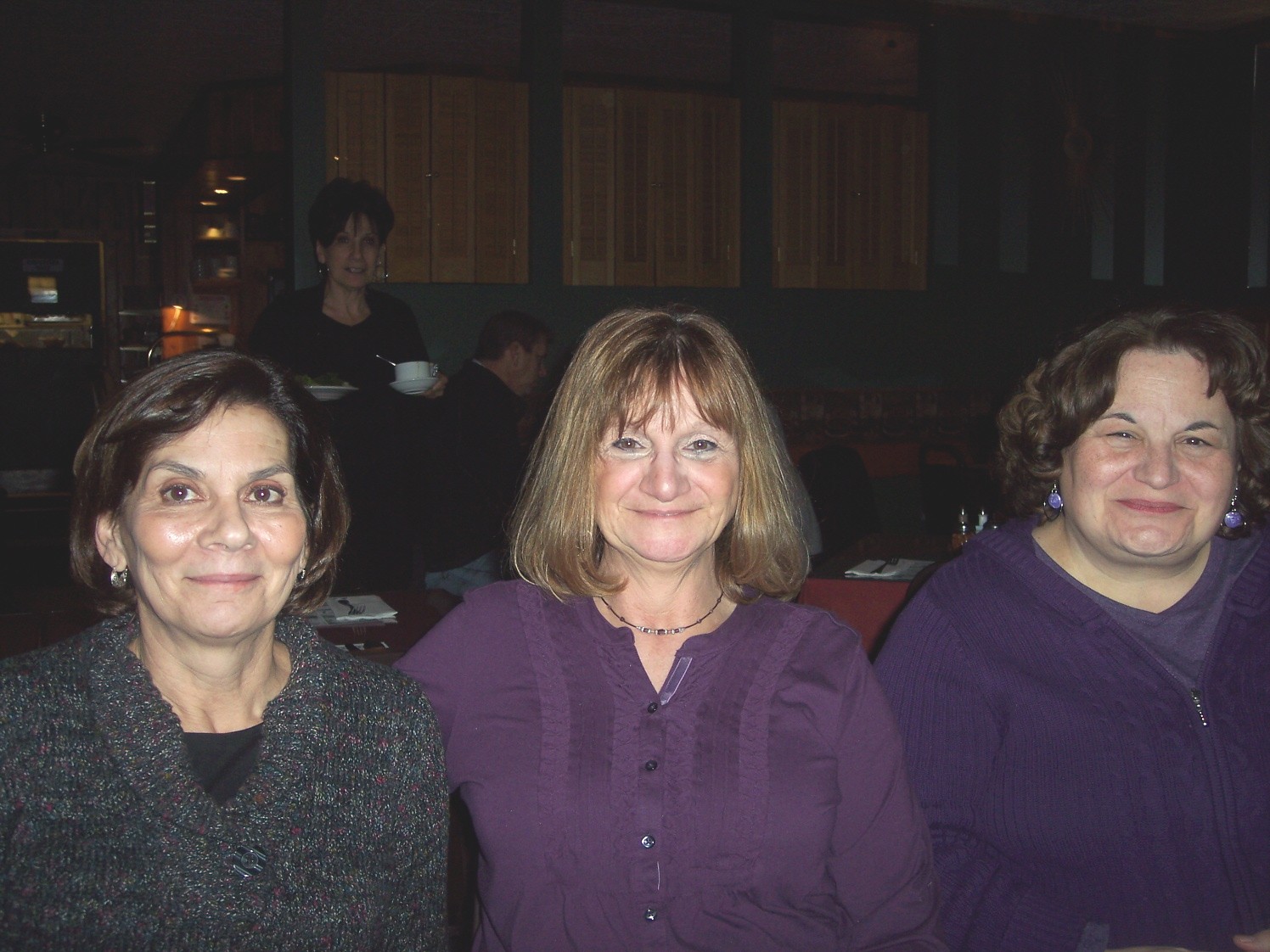 Dianne brought up the old TV shows we used to watch when we were kids and/or young adults, ones that she has been watching lately. Everybody Loves Raymond was mentioned and I told the girls how my daughter-in-law calls me Marie because of the way I do and say things to her. Joanne brought up her Raymond story about the episode where Frank is sitting in his chair in the living room in his boxers. She was saying that when her husband was coming over to meet the family, her dad was sitting in his chair in his boxers despite knowing Frank was coming over to meet him. She said geez dad, don't you think you should put some pants on? Needless to say, if any of you knew Mr. Long, he didn't, so Frank met him in his boxers and related the story to that episode of Raymond.
Karen told us about the life-size poster of Justin Beaver that her son's girlfriend's little girl got for Christmas. Seems Justin is stalking Karen and scaring the crap out of her every time she goes down to their apartment in the cellar where the kids and the poster reside. She knows he's there waiting for her, but she is startled every time none the less. Seems somebody is moving Justin around so Karen never knows exactly where he is. Last time she scared him too and he fell right off the wall.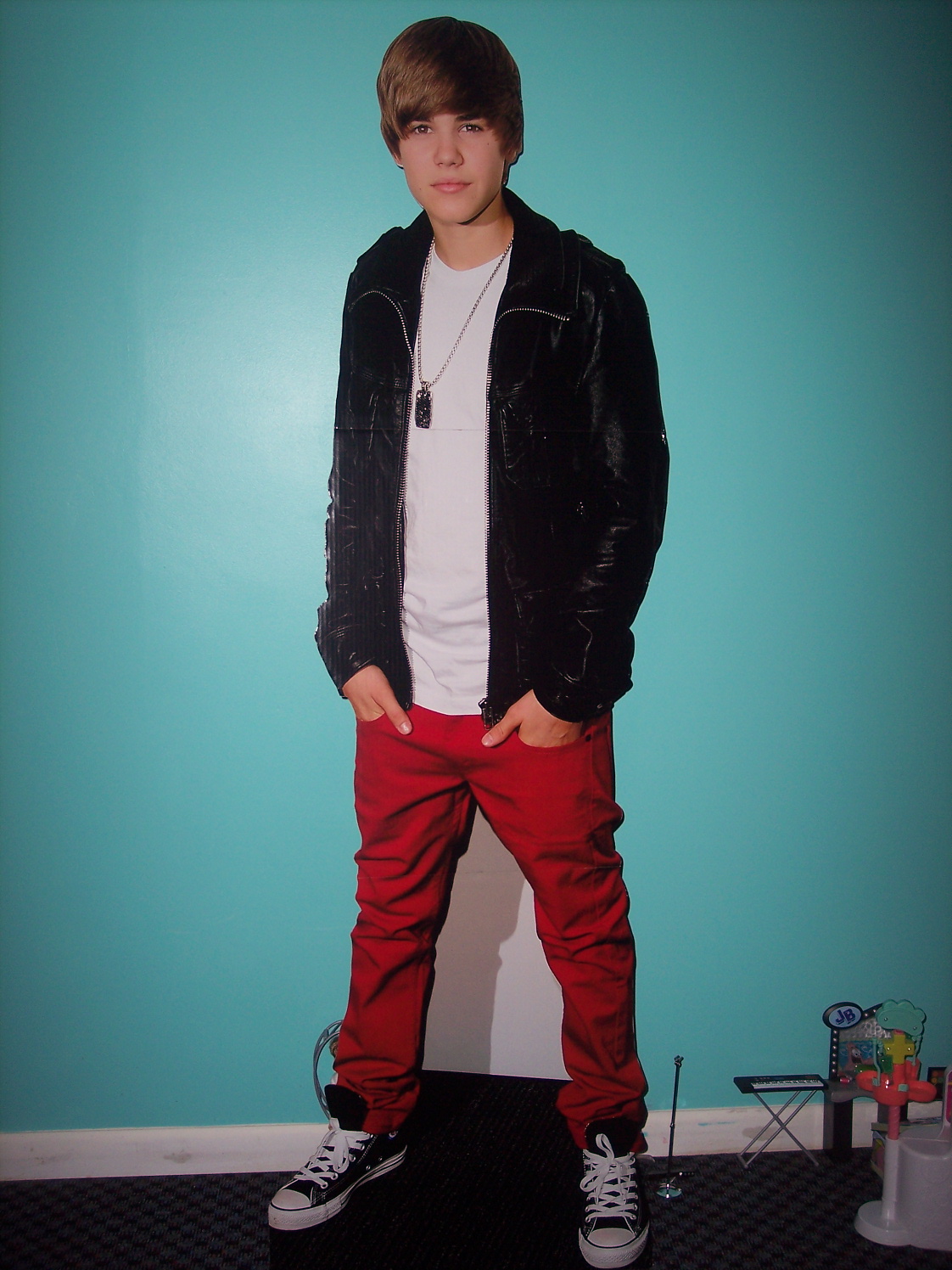 Denise told us about the new restaurant near the Stanley that she and Larry dined at the other night when they went to see Mama Mia. Forgot what the name of it is but she said it was good and the two of them killed a bottle of wine at dinner so Mama Mia was exceptionally enjoyable for those two. Larry stood up on the chair singing Dancing Queen while Denise danced in the aisle, so they had a good time (just kidding). So, for anybody taking in a show at the Stanley, it's the restaurant behind the Stanley that used to be called (or still may be called) 257 Steakhouse.
I told the girls about my trip to California in December to visit sister Judi. She and her husband Danny shared their anniversary with me by taking me to the Peppermill in Reno, getting me my own suite and treating me to the experience of the Peppermill. It was amazing and I felt like I was a movie star or something. The room was AMAZING…all styled in Tuscany motif including mahogany wood and marble floors and counters. I ended up winning like $80 besides, so needless to say it was a great trip for me. On the way home they took me to Lake Tahoe for lunch. Beautiful country out there, absolutely beautiful. A few days later Judi and I, along with her neighbor (and her husband as chauffeur), went to San Francisco. We went to China Town and while there, I asked to go into one of the shops to buy a knock off purse. So, Judi and Patty waited outside for me. I went in and looked around but didn't see any knockoffs and asked the salesperson if she had any. She waved me back into a room hidden by a curtain. Back there was a huge variety of all kinds of designer knockoffs, so in my usual style, I had to check them all out which had me in the store for quite a while. Judi, wondering where the hell I was, came in looking for me and of course didn't see me so immediately thought somebody had kidnapped me to sell me as a sex slave. She went back out and summoned the troops to come in and find out what had happened to me. Luckily I heard her out there and realized she had no idea I was in the hidden room so called out to her. She wanted to beat me but was cool about it. LOL! Then we went to Fisherman's Wharf. I could spend days there. LOVED IT!!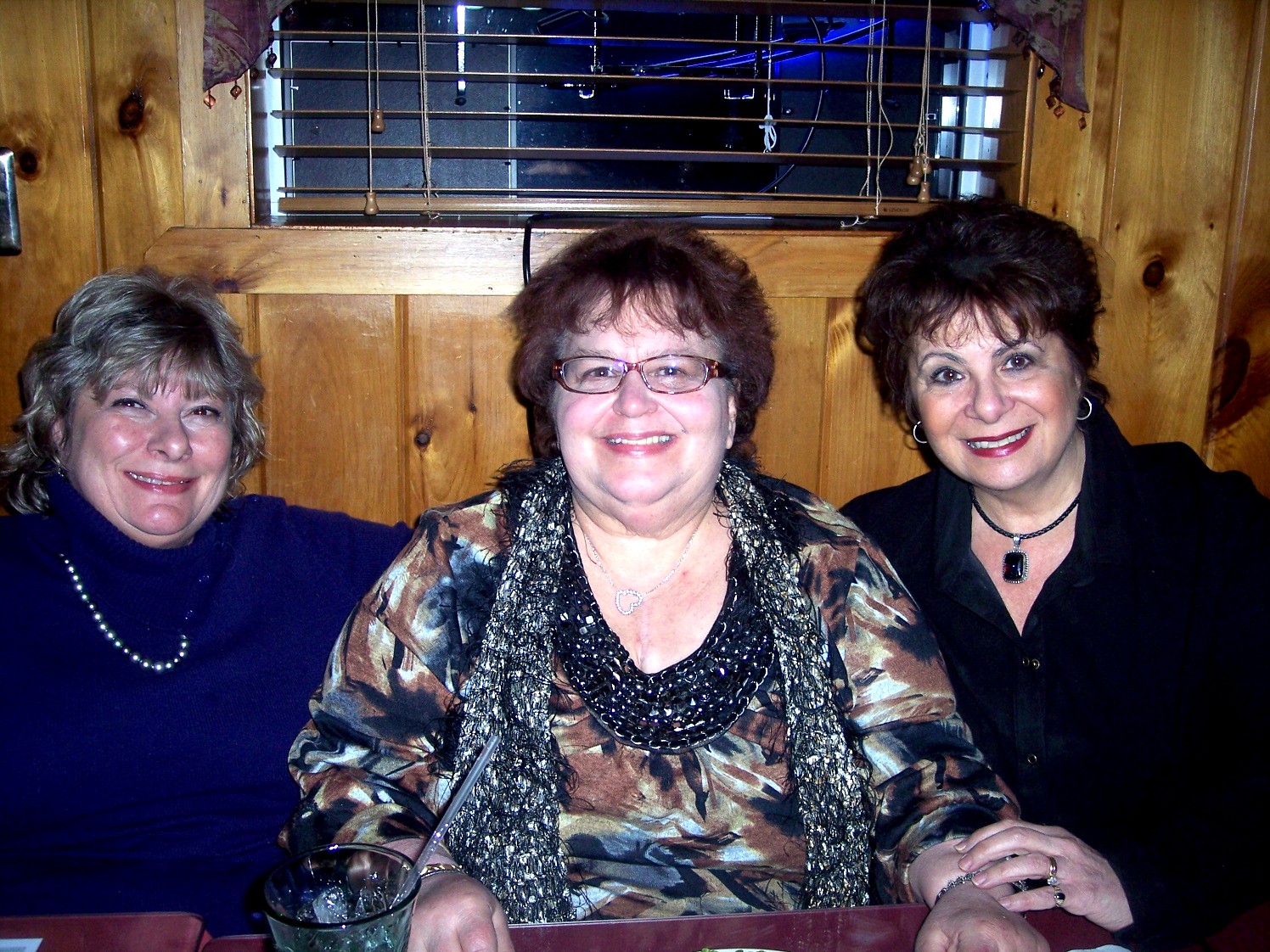 On my last day there, she took me out to Folsom Prison. We drove onto the grounds, with me snapping pictures and asking her to drive in further. I have a very adventurous nature and wanted to see more. We drove past the guard's shack and then she decided we better not go any further, but I, all nerve and no brains, said try going up that road. She said I don't think we can, I better turn around and see if we can get there another way. So, we made a U-turn and drove back past the guard shack. As we were leaving the driveway, a guard ran after us and looked in the car and asked where we were doing there. I slid my camera under my leg thinking it may be confiscated and Ethel (Judi) busts out with "well this is my friend from New York and I was showing her Folsom Prison and she's taking pictures..." So much for hiding the camera. So the guard looks at us like we are from another planet, and asks again what we were doing there and did we drive on the grounds. We said no and the guard said are you absolutely sure you didn't drive onto the grounds. We tell her no and she lets us go after realizing we are way too stupid to be doing anything sneaky. We left and that night as we had dinner, she proceeded to tell her husband about the adventure at Folsom. He looks up at us and says, "They had a riot there today. A prisoner was murdered and they were on lock down. It was all over the news…did you not hear that? Now I get it, Lucy and Ethel….!"
Had a WONDERFUL time with her and her family, her son and husband are the best and her dog, a big stocky English bulldog named Capone, fell in love me with me and barked every night down the hall for me. I spoiled him while I was there and got scolded for it. She has a great group of friends who entertained me and went out of their way to be nice. I loved them all. It was great. Can't wait for my visit.
Debbie Calandra was pretty quiet this time, which she usually is but does bust out with some stories on occasion. She and Joanne discussed colors for her bathroom in the new house. Deb did say her Open House went well and many people seemed interested, so we are hoping she is able to sell her house. It is a really nice house in a great location.

Our next meeting is February 22nd, Wednesday night, 6 pm at Caribbean Connection on W. Dominick St.

Respectfully submitted,
Deb Nash
Monday September 12, 2011

The Sisters of the 70s met on Monday night at Debbie Calandra's house for drinks and snacks and then on to Cafe DelBuono for dinner. Debbie hosted the sisters on her front porch, beautiful night, and for entertainment had Jen bring Michael over. Such a little chunky monkey and soooo adorable. Thanks for sharing Deb! We were all so comfortable we thought about calling Debbie Pugliese and telling her to bring us take-out! Ha!

On the ride out we discussed different issues, one being Karen's sciatica issue and drugs she is taking. We asked her to share but she refused...wants to keep them all for herself. I offered her Aleve in exchange but she laughed in my face.


Debbie Pugliese met us at Cafe DelBuono and it was wonderful to see her again. She's just as funny as ever. Conversation at the table consisted of preparation for a gynecological appointment (Karen explained her preparation for the gynocologist, she's something something) which brought us all to tears laughing, permanent hair removal and upkeep, perpetual weight issues, the joys and benefits of being single and many other topics that cannot be revealed. I have been and continue to be threatened with my life so....
Everyone seemed to like their meals (except me but I'm fussy). Service was wonderful and we would definitely recommend it as a good place to eat.The waitress asked if we would like dessert (it was on the board behind where we were sitting...facing Karen). Before we had a chance to open out mouths she blurts out yeah, I'll have such and such...! Debbie Pugliese suggested we let our food digest and then go to Cafe Florentine for coffee and dessert.

We went to Hobby Lobby in between dinner and dessert. It was such a beautiful night. As we walked out of Hobby Lobby Karen said she had a headache and Debbie Pugliese blurts out, "ooooo, you got the malocchio?" Ha! Ha! Ha! She's so italian...love her! BTW, does anybody know that malocchio is supposedly italian witchcraft? Rick, grandma practiced witchcraft...your mother would say I told you so....ha ha ha!

Dessert ended up being ice cream outside All Seasons Ice Cream next to Cafe Florentine. It was so beautiful outside we sat and ate ice cream and chatted and laughed some more. It was a fun and wonderful night.

The next outting is scheduled for October 24th in Utica again to celebrate Debbie Pugliese's birthday. Not sure where we will go, it will be Deb's choice. We will leave Rome at 5:30. We usually meet in the Staples parking lot and go to Utica in one car. I will send an email telling where we are going once it is decided. There are alot more Rome girls who could attend if they wanted; the invitiation is always open to everybody.

Sorry, no pictures this time...not sure why...nobody thought to bring a camera.


Respectfully submitted,
Deb Nash
Wednesday August 17, 2011


The Sisters had their monthly outing this month with our sister Jude from California! IT WAS AMAZING to have her and we are sooo happy she was able to spend time with us. Thanks Jude!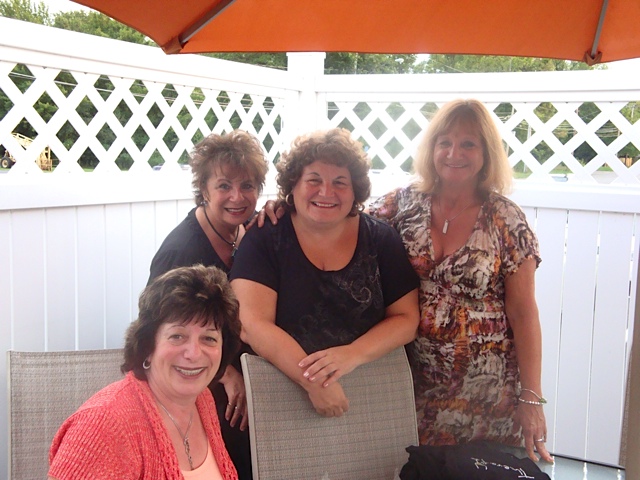 Wednesday night we met at Bucky's for drinks and conversation. In attendance were Judi, me, Deb Pugliese, Deb Calandra, Denise and Karen. Denise's husband Larry did join us for a bit, but warned us there would be no talking about menopause or any of that stuff! HA! Needless to say, he didn't last with us too long...why Larry??? Why oh why would you diss us??? HA HA HA! Deb C. told us her house construction was starting in September and that she was putting her house up for sale. How exciting for her! We talked about my foot in mouth comment on facebook about the death of Denise and Larry's dog. Denise said she thought it was funny and was the only laugh she got that day...Larry said when he read it he thought it was insensitive...ha ha ha. So, we talked about that for awhile and then I went up on the mountain and came back with an 11th Commandment: "Thou shalt not joke about the death of thy friend's dog.."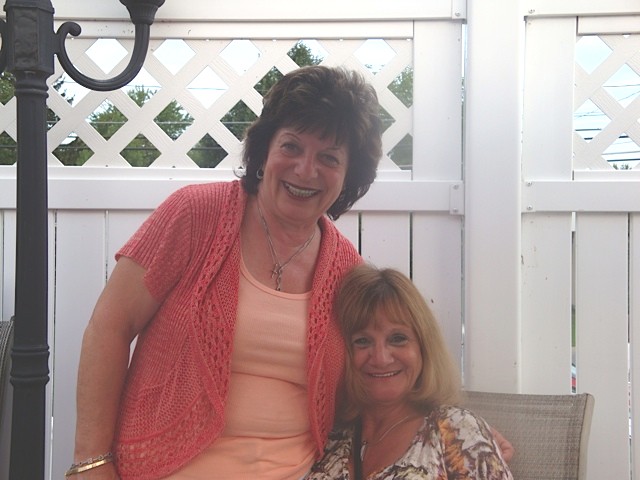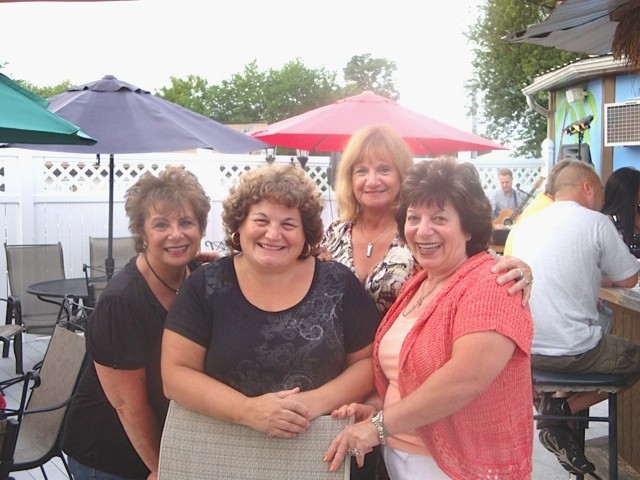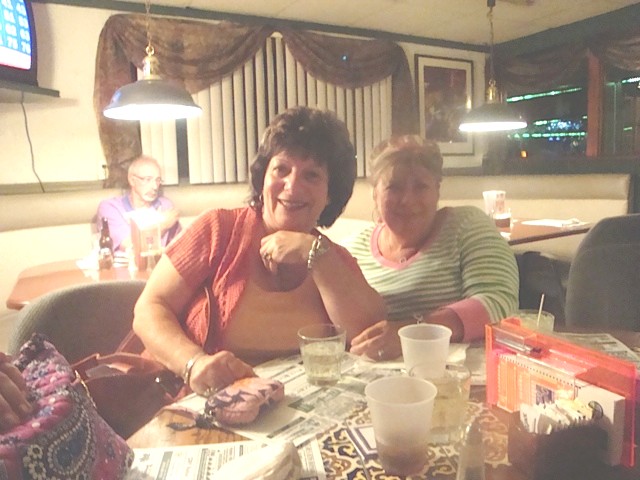 Some things were said that I can't make fun of or tell about...they always look at me and say, "I don't wanna see this in print either...!" So, my hands are tied there, sorry.

Thursday, through the very hard work and organization of Deb Calandra, we all embarked on a road trip to Auburn to see the play "Cooking with the Calamari Sisters." Judi bought us all v-neck black tee shirts with rhinestones and sparkles. Most of ours said "Wine Diva" with a martini glass. Deb C.'s said "Girls Night Out" because she doesn't drink and Deb P.'s said something else I can't remember right now. We all looked great in our shirts...they sparkled in the sun and everybody commented on them. It was pretty cool. There were 17 of us )Deb C's friends and family) so Denise drove Judi, Karen, Deb Pugliese and me. Deb C. rode with her friends. Karen sat up front so she could ride shotgun...but she didn't do very well so I had to take over. Let's see, Karen, where are we supposed to turn...hmmmm, it says, hmmmm, I don't know...I think get off the thruway...hmmmm, it says something something...hmmm, I don't know. So, I had to take over shotgun from the back, trying to scream directions to Denise over Judi's and Deb Pugliese's voices...wow! We did make it there finally. In fact, we were the first ones there.
We had lunch first at Elderberry Organic Farm and Restaurant. There were 17 of us and Deb, you did a great job of keeping that well organized. Touche! She made little place cards for us with our meal choices on them...how cool was that? Lunch was wonderful and well organized and everything was done and ready when we got there. The grounds were beautiful...lovely flowers and shrubbery. Great place Deb, good job.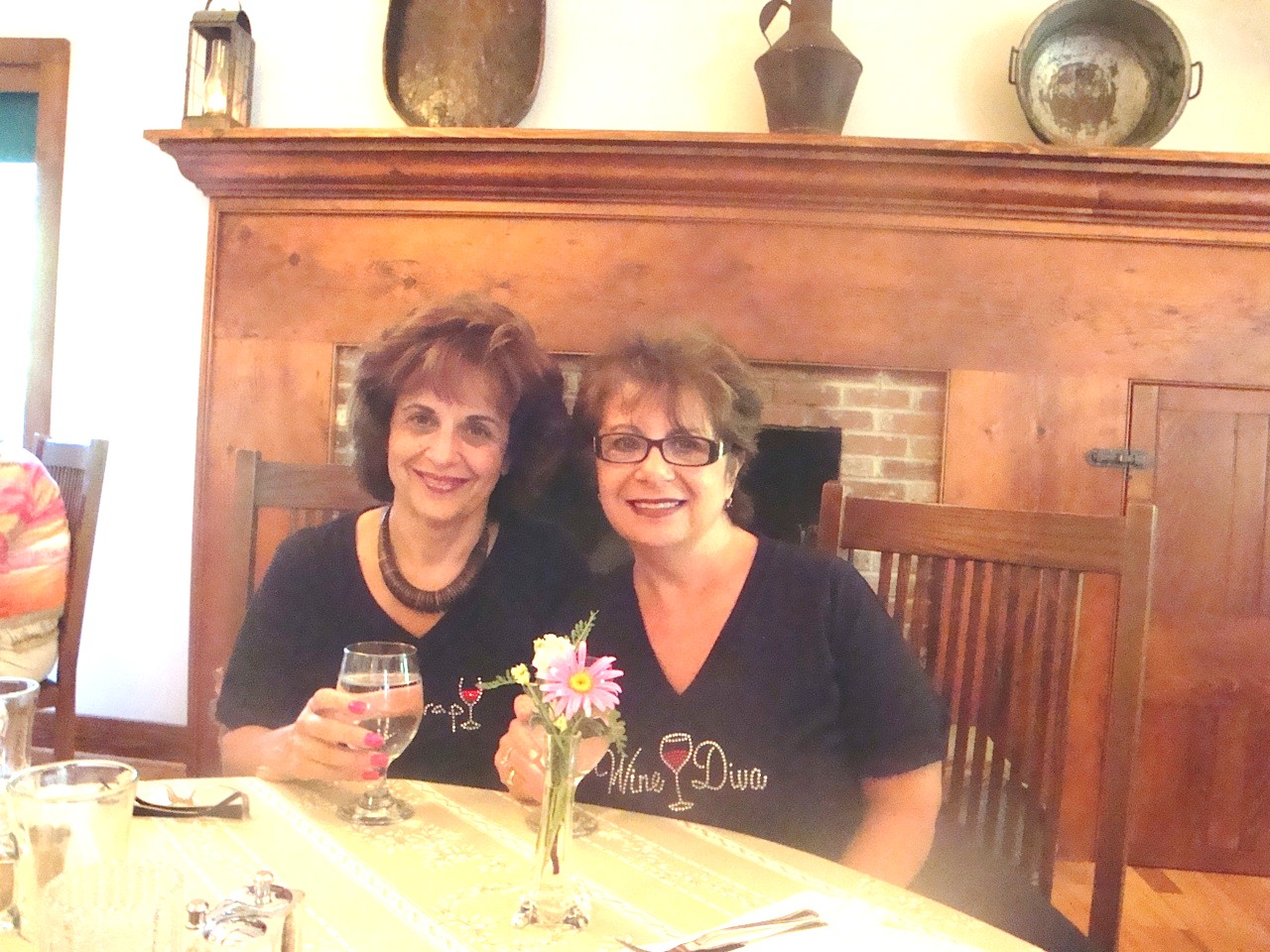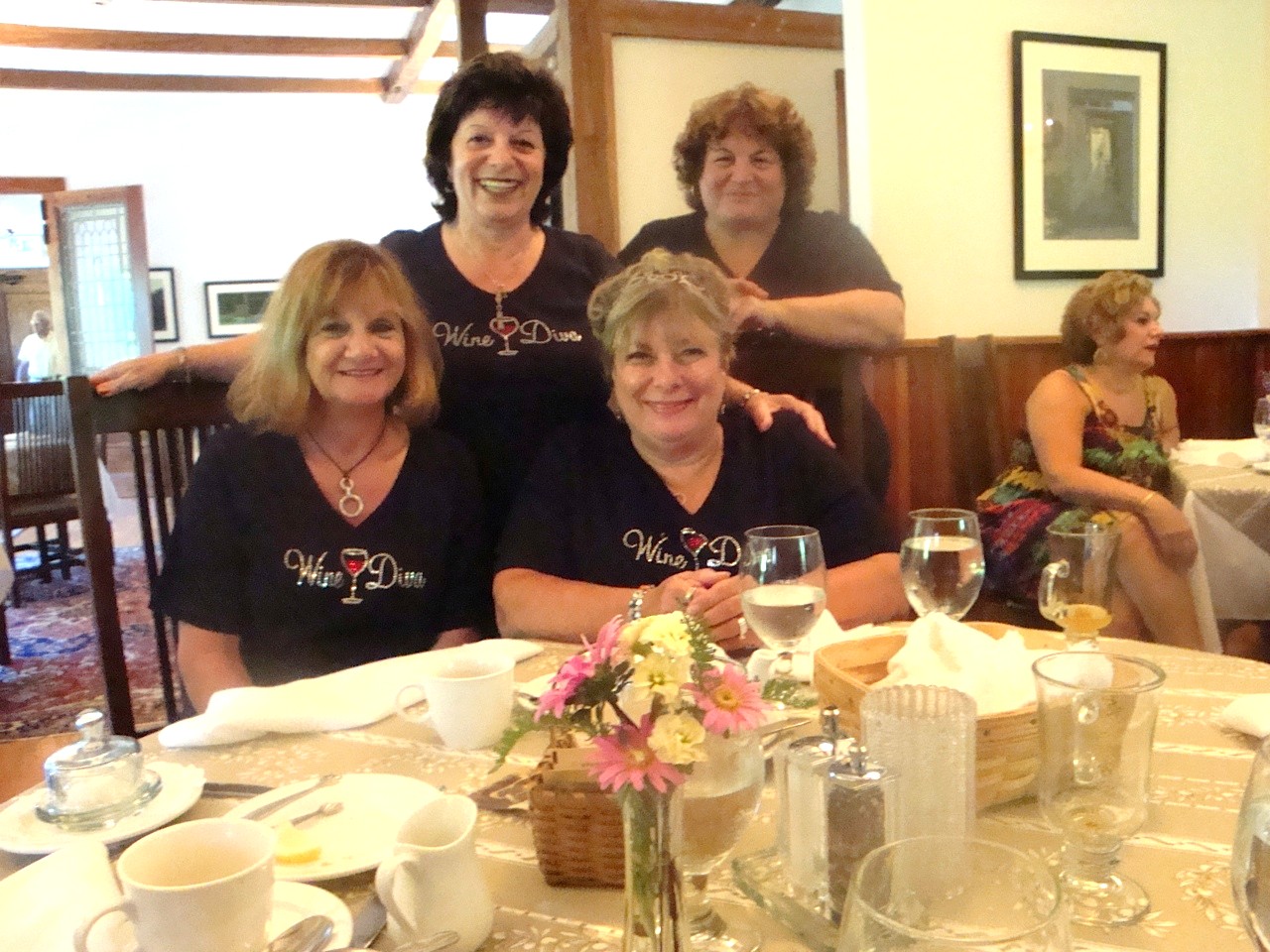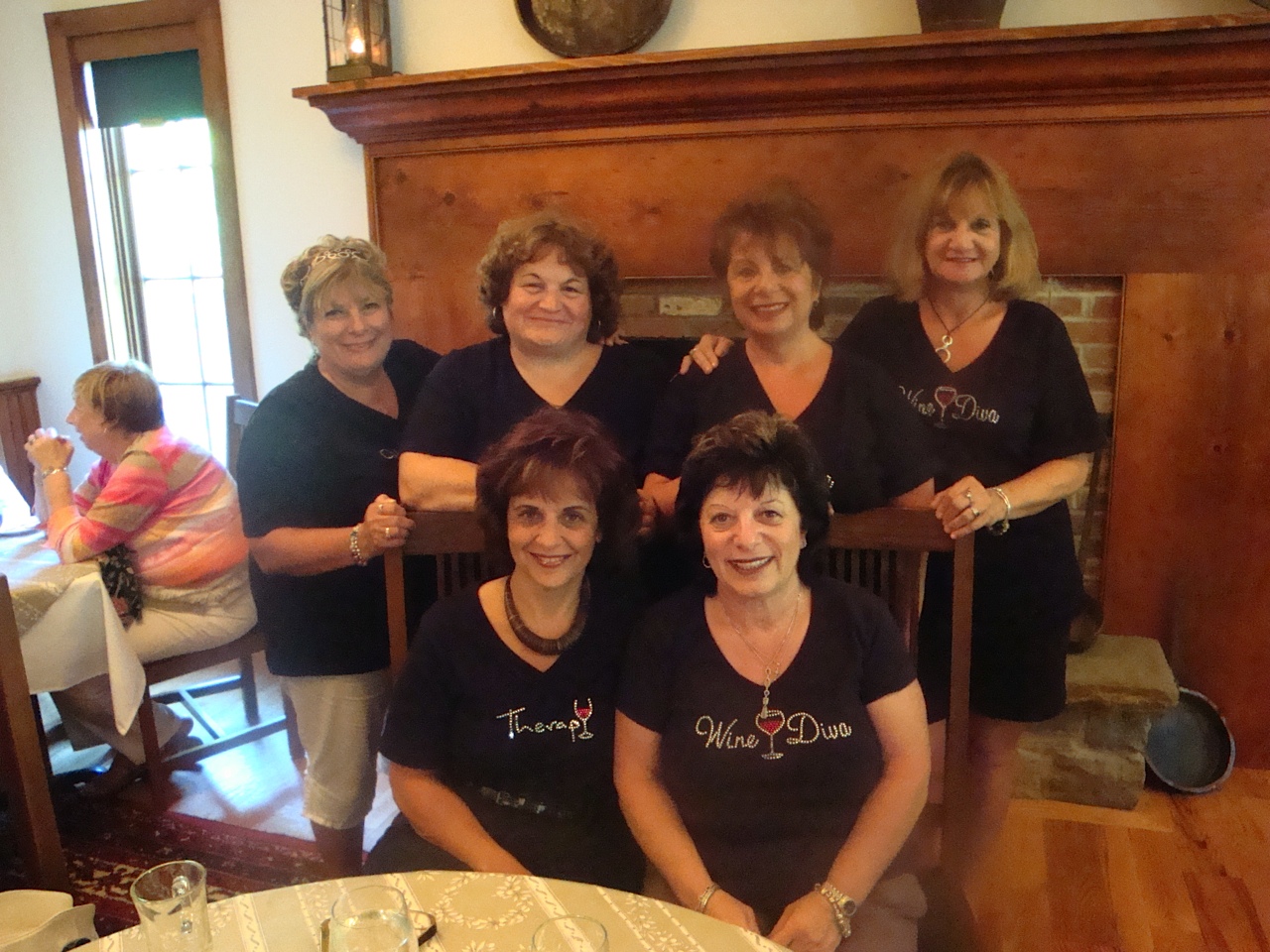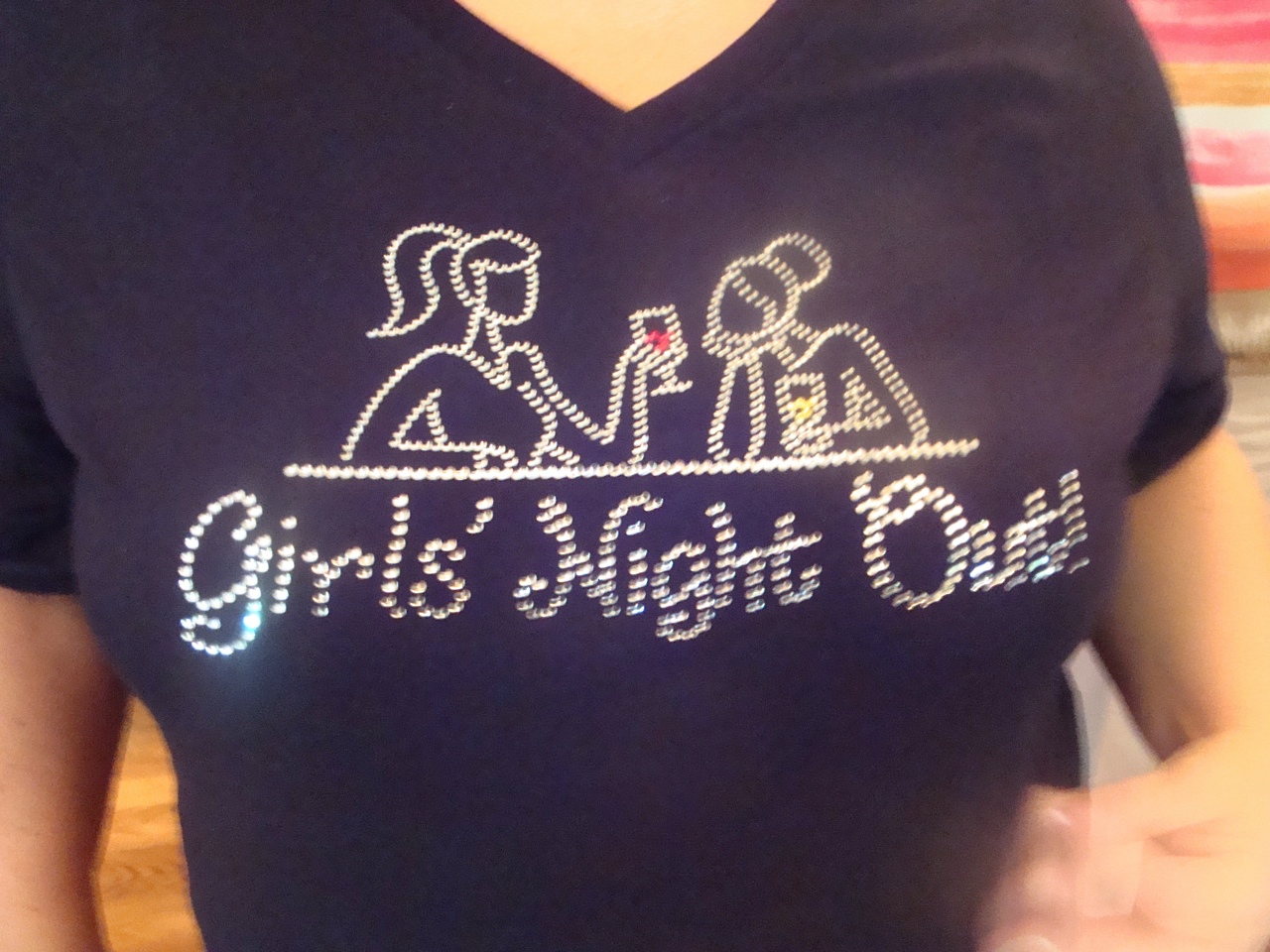 Soooo, we finish at Elderberry and get our directions out...we are ready to hit the road. We are the first ones out. We drive out of the parking lot and Denise says I know we have to take a left here. So I'm reading the directions that said to go east, and according to the signs we saw, it was the opposite way. The road names on the directions were not right, so we decide we better turn around and go back the other way. Well, we do that and we pass Debbie C. and her friends going the other way, so we go back to the farm and call her. Apparently the directions are not right. So we catch up to them and off we go again, but we're talking and not paying attention and then, utt ohhh, Denise says when we get to the stop sign, "Did anybody see which way they went???" So we're all looking and then we say, well, let's go right cuz there are cars over there. Good choice...we saw them, but then lost them again. So I'm reading the directions and it says to turn after Wegman's but we can't find the theater so we call again. They are waiting at the parking garage so we mess up and we go by the road the parking garage is on...have to turn around. We found a pretty nice parking space on the street but me, being the anal one, says, "No we better go where they are so we can follow them out" (after this trip, we will need help finding our way home). So we go to parking garage, don't know what happened but they are gone again so we drive into parking garage and ALL they way up to the roof to park. THEN, Deb calls me and says we didn't park in the garage, we parked in the farmer's market parking lot. GREAT! Me and my big mouth...I figure I better shut now because the girls are looking at me with these looks on their faces...lol! We could have parked on the street but now we gotta walk three flights down and possibly three flights back up. Foot in mouth again...!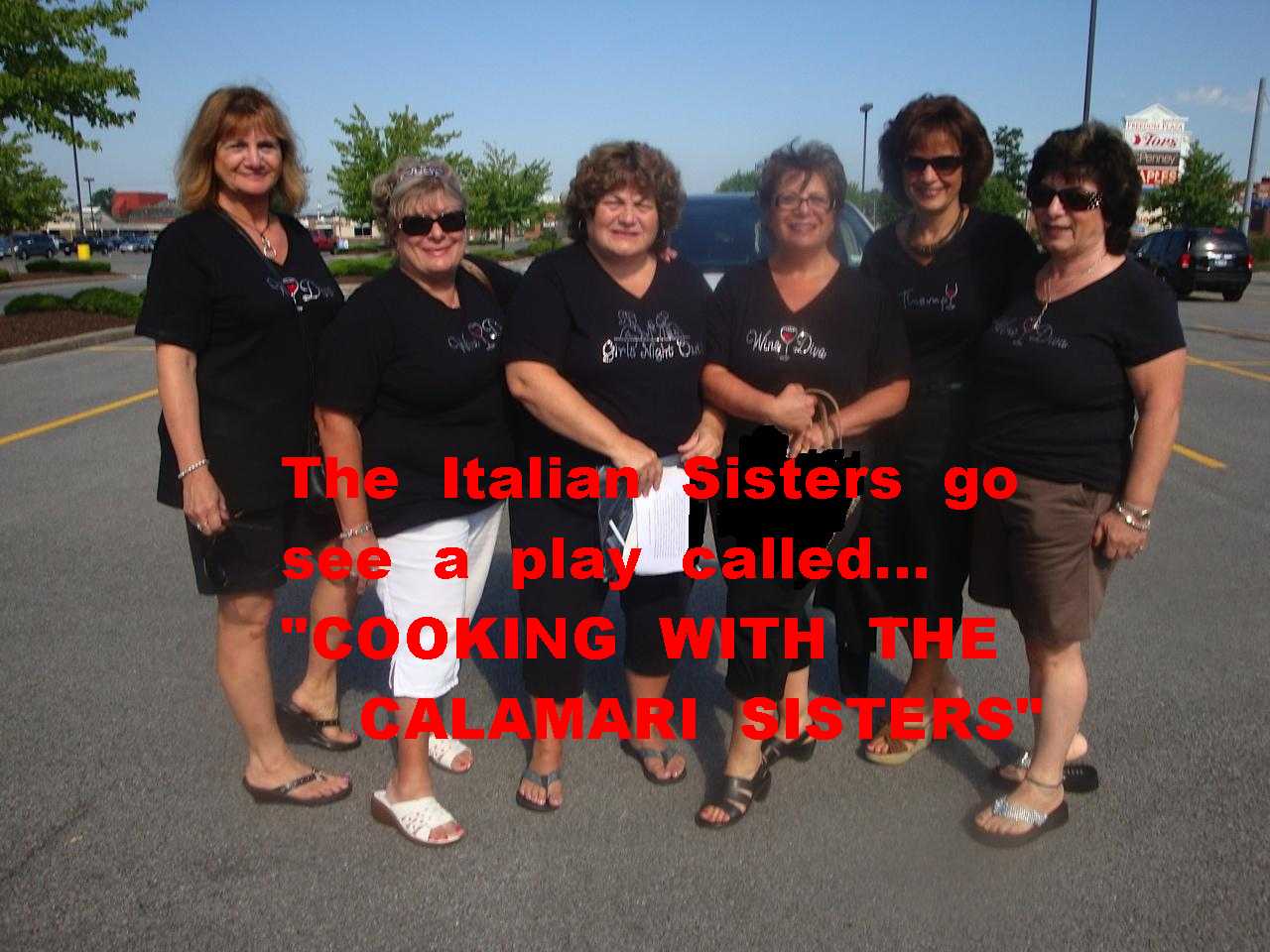 The play was hysterical. Two men who dressed up as Italian women doing a cooking show. Audience participation part was funny too. It was great. Now comes the ride home, but before that, we are hoping there is an elevator to take us to the roof of the parking garage. Well, there is, thank you Lord (I have redeemed myself a little)...and so we get in...just the five of us and then a few other people get on. So the elevator is full and when those others got on Judi is like okay, that's enough. Now she and I are pushed back into the corner and two more get on...a heavy woman and her signification other (or whatever) and she's right up against Judi, who is pinching her nose and laughing hysterically. So then I'm looking at her and laughing hysterically too, seeing her with her fingers pinching her nose shut and I know why. OMG....you had to be there. That seemed like the longest elevator ride ever.

We made it home without any further incidences, eating donuts and nuts and biscotti...yum! We chatted and laughed and chatted and laughed some more. We were all so happy to be together with Judi. It was priceless. We are going to miss her TERRIBLY! Love you Jude!

We talked about going to Savoy next time for our dinner meeting. Jay Huggins managing the kitchen now and we heard the food is wonderful. Haven't decided on a date yet. We will have to get together and decide on a date, and when we do, I will put it out there for whoever else would like to join us. Till then, happy summer classmates!

Respectfully submitted,
Deb Nash
The four amigos met last night for their monthly gathering. In attendance were the die-hards: Deb Calandra, Deb Nash, Karen Facciolo and Denise Desimone. Pretty uneventful evening but very nice and enjoyable.
The day started out at Denise's house where Deb C. wanted to get some ideas about room sizes for the new house she is going to build on Gifford Road. She will be my neighbor, which is pretty cool. So Denise makes up Malibu and Pineapple for her and Karen, because I'm on a diet and can't drink it right now...Larry called me Ms. Anorexic...I'm not though.
Anyway, Denise mixes it all up and puts it in a picture and loads up her little cooler and off we go. The half gallon pitcher was at least half full. So, we get to the boat and get all settled in...Captain Larry at the helm. Denise asks Karen, do you want a drink? Karen says yes. Well, Denise pulls out the pitcher with like an inch left in it...it had all spilled out into the cooler but Karen said she'd drink it out of there if need be...
Captain Larry may have felt like the odd "man" out, but he was cool. Denise asked him if he would like a drink, and I wondered if she was going to scoop it up from the bottom of the cooler but luckily he declined. We did feed him cheese and crackers to keep him occupied while we talked.
We had a leisurely ride; gorgeous night to be out on the lake. Deb C. brought snacks so we ate and chatted. Now we are all looking forward to the great food and the great view at Sea Shell Inn. We dock the boat, get everything settled down and Larry departs for Bike Night at the Beach and we climb into Deb C's Explorer. Of course, we had to fill the back with Denise's cooler and whatever else we had, and Deb C. is saying how much she loves the truck except for when it's parked on a hill and she has to try to reach the overhead back door to close it, as she's standing on her tip toes trying to grab it...LOL!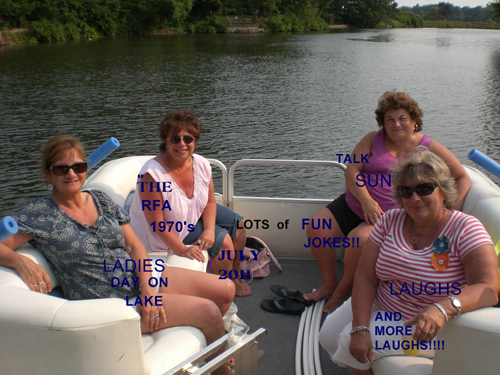 So we pull into Sea Shell Inn and alas, they are closed. We are all like "ohhhh darn it." Deb C. says "Geezzz I already knew what I was having!" So we decided to go to Canal View, where we did have a pretty decent meal. I was complaining that I had to loose weight and could only get salad while the three of them just kind of looked at me with disgusting looks on their faces...LOL! Deb C. said if she weighed what I did she'd have a party..ha ha ha! I explained that they are all set with their spouses but I have to keep myself up to par to land a new mate! LOL!
Our next outing will be August 18th when our sister Judi is here. We are going to Bucky's Wednesday night for Meet and Greet...all are welcome to come. That is not our sisterhood outing, but for our brothers as well. The 18th we are going to see a play Deb C. told us about...Deb C., Karen, Denise, me and Judi. It should be fun. It's two guys who dress up as Italian women and the play takes place in the kitchen I guess, sounds funny. Deb said it's hysterical but even more funny if you grew up in an Italian household. If any other sisters are interested you need to contact Deb C. asap as she will be ordering the tickets any day now. The more the merrier!
Respectfully submitted,
Deb Nash
June 7, 2011

Sisters of the 70s Social Club (a/k/a Four Muskateers) met last night at Delta Lake Inn. In attendance were Deb Calandra, Denise Desimone, Karen Facciolo and me, Deb Nash. It was a celebration of Denise's birthday...another sister bites the dust...59! Those three are much older than me...he he he.

I introduced Malibu and Pineapple to both Denise and Karen who loved my favorite drink. Denise went to buy a bottle after we left. Deb Calandra ordered a Strawberry Daquiri, Virgin, piled high with whipped cream...mmmmm, it looked yummy! We sat at the bar for a bit and then the waitress/barmaid came to show us to our table. Something side-tracked her so there we stood, in the dining room at Delta Lake Inn, waiting to be seated. We all eyed the table at the end that looked out over the dam but figured, nah, they aren't going to let us have it. Meanwhile, everybody kept looking at us like we were freaks, but we probably did look funny standing there for all to see, holding presents and drinks in our hands and scanning the room for the best table. Finally I went to find the barmaid who was also playing hostess. She said you can sit where you want, and Denise says "we'd like that big table in the back but we probably can't have it" and she hesitated and then said of course you can, it's your birthday! Cool!

So we are all reading the menu, and everything sounds so good. Deb Calandra said she was getting the Pasta Primavera. Karen was opting for the "something steak," (something has become Karen's fill in the blank word). I was looking at the Coconut Encrusted Tilapia and then we asked Denise what she was getting. She said she was getting the Tenderloin Medalions with Portabella Mushrooms...so Karen and I said yeah, us too (which is what we always do, the three of us end up getting the same thing). We laughed because it always seems to end up like that, the three of us get the same and Deb Calandra is the odd one out. LOL! What's even scarier is Karen and I ALWAYS order EVERYTHING THE SAME! When it came time to give our orders, Deb went first, then Karen and I sat there thinking, yup, garlic mashed, yup, medium, yup, salad instead of soup, now came "what kind of dressing" and I'm sitting there just waiting...Parmesan Peppercorn...YES! Make that two of EXACTLY the same! Uncanny!

We discussed a variety of things. Karen wondered if we had heard from Dennis and we said no, so Dennis, are you okay and are things going okay? You've been quiet. I told some internet dating site stories and we discussed the benefits of living alone and of having to get out into the dating world again. Deb said she'd have to loose 100 pounds because she'd be too self-conscious (yes Bob, she really did) and she's too shy to date so she'd probably just sit home and Karen said her cousin told her that you and the guy have to have drinks so when you roll in the hay you don't see each other's rolls and after having drinks, who cares anyway???? Makes sense. I was saying that men our age who look their age or older have as their age requirement - women between the ages of 35 and 50. I can't tell you how many times I want to send them a quick message and say yeah, and I wanna win the lotto too but that ain't happning! Seriously, do they not own a mirror? Karen was saying how she sent her 85 year old dad to the Senior Center in hopes he would find a nice lady to date. He came back and told her he was never going there again...the women were all too wrinkly...HELLO?? No offense 70s brothers, but come on!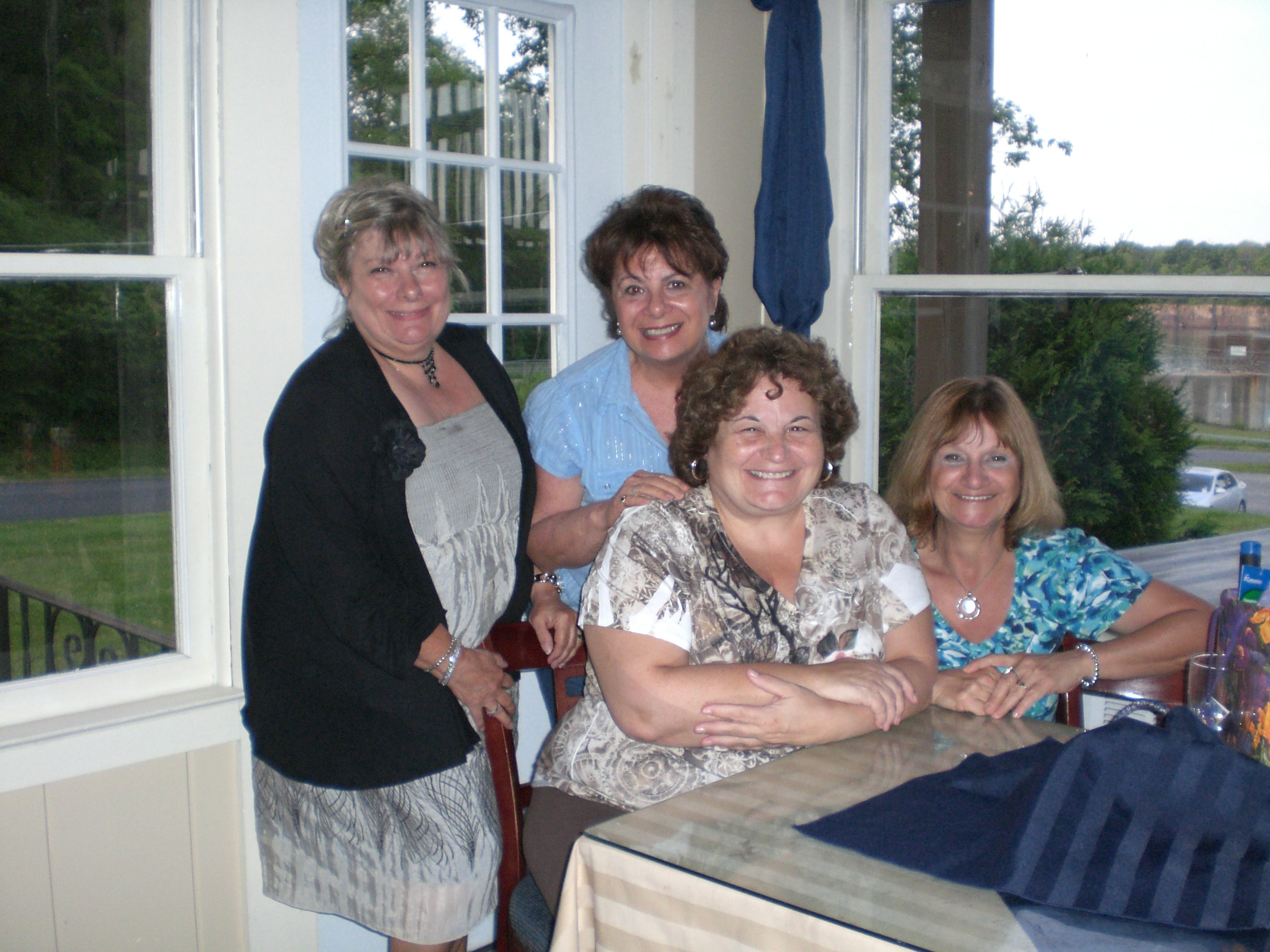 We were reminiscing about the reunion, and Karen suggested it was the CD we made for the reunion that was sticking out of his pocket and we're like no, and Deb Calandra said no it was a pee pee. LOL!! Karen said "shhh, there's a young couple sitting behind us." Really Karen...they know more than we do...!





We discussed doctors and when I told who my new doctor was Deb and Karen both made noises and faces. Geez...makes me feel good putting my life into his hands. Thanks girls. Deb told about how he would tell her it was her being over-weight that was the cause of the sinus infection she got...uh oh. Another doctor bugging me about my weight...great. Anybody know a fat doctor I can go to?





Karen told us about a little boy who had died and gone to Heaven when he was very young and through the years had told things to his parents about Jesus, etc., and it sounded really interesting. I guess this boy, grown now, has written a book and has been on television. So, if you are interested in reading the book, Karen said it's called "something Heaven." Good luck with that.





Michael is being christened on Sunday, but Deb has no idea what she's cooking. Retired but hasn't had time to think about it. Also, today is Jen's birthday and Deb hasn't had time to bake her a cake either. WOW! Darn good thing she doesn't work anymore! Can you imagine what her house would look like???!!! So she's gonna call her dad to go and pick up a something cake for today.





Karen showed us her chewed up insurance card. Seems her dog still chews stuff up on occassion which brought us to exchanging stories about our dogs. Denise shared her female shitzu's humping habit and was about to tell us more but didn't want to spoil our dinners. Oh boy, I can only imagine.





Deb was saying they plan on starting to build their house on Gifford Road in the fall so that the shell can be up by winter and the builder can work on it inside all winter. As she was saying that, Denise got this look on her face and Deb says okay what, not good timing? Denise told about how they had built their house in the same way but got cluster flies who decided to make her empty house their habitat. Seems they came out of the woodwork and Denise said she would kill like ten of them and think okay, they are gone now and one would come out from nowhere but eventually they did get rid of them. So Deb is rethinking that time frame. Deb was wondering...does anybody know what is a good time to avoid flies??? LOL, I think they hang out all year Deb, just sayin.





So now comes time to decide when and where next time. What a discussion that turned out to be. We are meeting on July 13th. Let's see, if it's nice Deb and Karen are picking me up on the way to Denise's house and then we are heading to the beach to go on Denise's party barge (ooppps, did you tell Larry yet Denise??) and have pizza and malibu and pineapple (Deb will just have pineapple juice) as we sail along chatting, with Larry as captain. We may also just have dinner at something restaurant and then go on the boat afterwards. I can't remember what we decided; the discussion went on for so long. If it rains, well, we will still go out to the beach and have dinner at something restaurant. Either way, we're doing something. Just sayin.


Have a great June!


May 9, 2011

The Sisters of the 70s Social Society met last night for dinner and some gambling at the casino. In attendance were the Four Musketeers, yes, FOUR: Deb Calandra, Karen Facciolo, Denise Desimone and me. We met in Staples Parking Lot and Karen and I were sitting in Deb's SUV waiting for Denise, all set to go in Deb's SUV...
UNTIL SHE DROVE UP IN THE LINCOLN!
Oh yeah, when Denise pulled in with that gorgeous white lincoln I jumped out of Deb's and said "Let's go in that!" Deb and Karen were at my heels and off we went.
Dinner was in the Emerald Room and lots of conversation. Debbie's grandson, Michael, is doing very well, praise the Lord. Still on meds but hopeful that one day he won't have to be. Karen was saying there is a huge neon sign flashing in telemarketer land that says, "DO NOT CALL THE COCCAGNIA RESIDENCE ON OAKWOOD STREET IN ROME NEW YORK! DANGER! DANGER!" Apparently John takes the opportunity to commiserate and explain all his ailments, aches and pains, doctors visits, etc. to the telemarketers when they call. Typical old Italian male...sounds like my father-in-law. You hated to ask him how he was because you knew you were going to find out every detail. Karen of course tells it in such a way that you laugh till you cry! We discussed the possibility of taking a weekend trip to Philly to see Krista play, otherwise we won't get to hear her. We talked about Dennis, what a sweet guy he is and how he had contacted John Mastrangelo years ago to ask to be notified of reunions even though he didn't graduate with us. None of us knew that. Well, you are an honorary member of the RFA Class of 1970 now Den!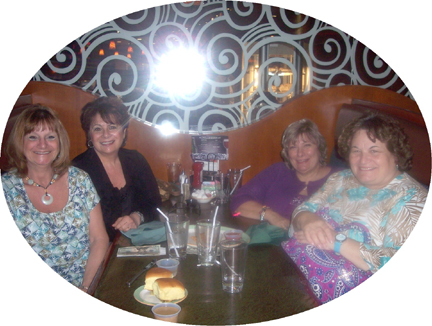 So, we enjoyed our dinners and finally got somebody to take our picture before we left the Emerald Room because no pictures on the floor. We stood out in the hall deciding what we wanted to play. Deb and I wanted to play the slots, Denise wanted to play the fruit wheel...Karen said she didn't care...so we went and played the penny slots. So we find some penny machines, Karen sits down and puts her card in and presses play. All of a sudden the machine is whistling and going nuts. Without realizing it, she played the bet that was last on the machine which was $5.00 bet and it hit! She looks at me and says "what did I do?" Well, she won $20 on that one play on the penny machine. Deb is on the other side of me and she has no freaking idea what she's doing either...so I fix her bet, (not than I am a seasoned gambler either, but obviously know a little more than these two) 20 lines, 1 per line, 20 cents each time she presses the button. Then she gets cocky and starts pressing other buttons and notices she lost alot of money on that last spin. I look over and see she had played either $6 or $4 on that spin. So she realizes she doesn't know what she's doing so she and Denise decide to go and play draw poker machines; Karen and I played there for a while and she kept winning and did end up getting $50+ by the time she pulled her card out. So money bags and I start out to find the other two to play some draw poker.
We're walking down looking at the poker machines, nope. Can't find them. So I call Denise. She says "Well, remember where we were playing? Leave there go straight and then turn right...we're by the fountain in the hall." As if there is only one fountain in the whole casino. So we do that and now we are out by the buffet and she says "we are where opal's is. i'm standing in the aisle watching for you." So I ask does she see us yet? She says no. So now Karen and I are freaking exhausted because we've walked almost the whole perimeter...wishing we had a gps with us. Come to find out, they were down past the Emerald Room, past the coffee shop by that fountain. Denise, you should have told us to turn around from where we were playing and go straight and then right. Remind us to never ask you for directions again.
So we finally reconnect and now I'm playing, Deb and Denise are playing, but money bags is hanging on to her winnings...she's not spending a freaking dime of those winnings. No luck there, although Deb did win back some of hers. So then Denise says are we ready to go? So we follow her lead out to go to the cashier so money bags and Deb can cash in their cards. Lo and behold, the FRUIT WHEEL! Wow, what a coincidence Denise! Without a word, Denise sits down and I thought, hmmmm, took us the FRUIT WHEEL route eehhhh. Withough a word Denise sits down and pulls out money to buy some chips. So, Deb and Karen come back and Denise is playing so Deb decides she'll try her luck here. I lost my $20 so I'm not donating another dime. Karen has her $35 she won tucked into her bra for safe keeping so she's watching those two play, like me. Deb ended up winning a little and she tries to give her chips back to the table guy to cash in. Denise tells her no, he can't take them you have to go to the cashier. Deb says well he took my money now why can't he give it back? Oh Lord..bless her heart. You win some, you loose some...
Okay so now it's time to go. We walk to the elevator...Karen and Deb walking behind us. A man is at the elevator and he's pressing the button. Denise and I get in and so does the man, asks what floor we want and we say 4...now Karen's lips are moving faster than a whippoorwill's ass as they approach the elevator...she's not paying attention cuz she's too busy flapping her jaws and
WHAM**$$##!! ouch!
Walks right into the closing elevator door and it smashes her in the arm. Now we get in the car and she's rubbing her arm saying it hurts and she should sue them..."the elevator doors are supposed to open right back up when they feel somebody." Oh yeah Karen, let's sue them. It must be on tape. Then Denise or Deb, can't remember which one, says you can't sue the Indians and Karen says why and I pop up with "well, they are a sovereign nation." Hey, it sounded good.
Next escapade is June 7th at 6:00 pm on the deck of Delta Inn. All sisters are welcome to attend.
Respectfully submitted,
Deb Nash
- - - - - - - - - - - - - - - - - - - - - - - - - - - - - - - - - - -
April 11, 2011 (pictures to follow maybe?)
S70SS met tonight at a location I will not disclose. Karen picked it for us...she is not allowed to pick anymore places. She's done now.
The usual four people were in attendance: me, Denise, Deb C. and Karen. It was sort of quiet there...I think we were all in shock. We talked about the rough time Deb's daughter had to bring little Michael into the world. So sorry that poor girl had so much trouble but she has a beautiful and healthy baby boy to show for it!
We were all sort of quiet...I think we were all in shock and didn't know what to say or do so we ate what was put in front of us. We were so hungry it tasted good till we started to get full. Some of the dishes they brought were scary looking and the one that looked like a bowl of little skinny twigs was disgusting. I had to moan and literally spew it out of my mouth. Have no idea what it was and I didn't care...just wanted to get it the hell out of there! We celebrated Debbie's birthday and she got a grandparent's frame from Denise, yummy gourmet chocolate and lottery scratch offs. Debbie was very appreciative and we enjoy doing for each other. Oh yeah, and Karen brought her roses too, so that was a nice touch...good job Karen, way to show us up!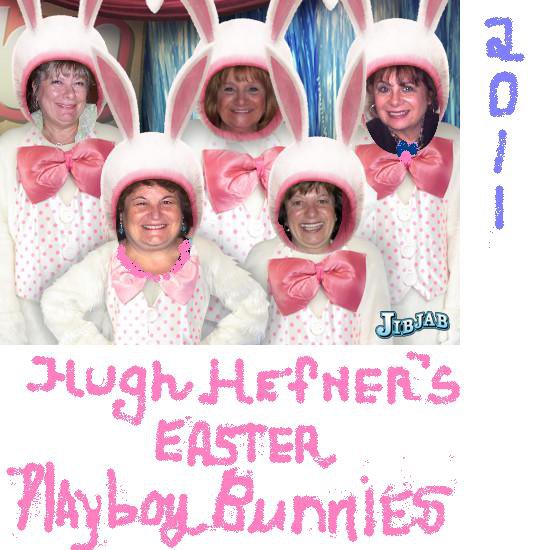 We played it safe and went to Teddy's for dessert and coffee. We talked about some women's issues which I am not allowed to repeat, but we basically all agreed that some parts of a woman's anatomy are best used ornamentally (not sure if that is a word but you get my drift) as opposed to what they were originally intended for. Can't say anymore. Somebody, not mentioning any names, related stories of her elongated trips to the corner store with Wrong Way Peach Fuzz while another glorified her Magellan about his uncanny sense of direction. Good for some laughs. Owner of Teddy's, Brian, came over and, much to our chagrin, knew we had gone to xxxx for dinner, and that was a little uncomfortable. We did have dessert there though and we did tell him, not in so many words, that he had nothing to worry about. LOL!
All in all, pretty quiet night and not much I am allowed to divulge, so this is it. Next outing is Monday, May 9th (Deb Pugliese, hope you can make it....this one is for you again). We are meeting in the Staples parking lot at 5:30 and then will car pool to the Casino. Dinner in the Emerald Room and then a little playing on the floor. Should be a fun night! Hope more can attend!
The sisters met last night for their monthly dinner meeting at Coalyard's. In attendance were the usual die-hards: Debbie Calandra, Denise DeSimone, Karen Facciolo and me. We celebrated Karen's birthday and decided I was the baby of the group (he he he he).

We got some pretty funny news from Deb Calandra. Seems they have been preparing for a girl all these months and much to their surprise, an ultrasound done yesterday showed there was a stem on the apple!! Now the baby is due April 1st and they have EVERYTHING PINK! Bob had taken Debbie's car to their daughter's house to load her car up with all the pink items that had to be returned. No idea what they will do about the pink room...! So we know what Deb was going to be doing today, returning all that stuff. Now they have a Michael on the way instead of Miranda. What a fun story that will be to tell him in the future!
So we all order our food, starting with Deb Calandra. She orders her meal, I order my meal, Denise orders Prime Rib with garlic mashed and asked for horseradish sauce. So now it's Karen's turn to order...she orders the cordon blue like Deb and I ordered, and then tells the waitress she wants the potatoes like Denise is having. Now I know what Karen is thinking...she wants her mashed with horseradish sauce. So, the waitress looks at her with a puzzled look and says "she's having mashed potatoes" and Karen says yeah and she says she wants it like Denise's potatoes. The waitress is still looking at her with a puzzled look and I'm laughing and Karen says to the waitress, "Why, mine doesn't come with potatoes?" I couldn't hold it any more, I said, "Karen, the horseradish sauce is for the Prime Rib, not the potatoes!" LOL!

Debbie Calandra brought us all Happy Birthday lottery tickets and Denise won $2 and gave it to Karen for her birthday. Denise also brought a small carrot cake for dessert there. I gave Karen a bottle of Chocolate Raspberry Wine...my new drink of choice...yummm. As usual we had a nice time and a few laughs.
Our next dinner will be on Monday (for you Deb Pugliese so you can come) April 11th at 6:00 to celebrate Deb Calandra's birthday. We will be going to Tracy's, the old Johnny Bravos by the cemetery on E. Dominick St. All are invited and encouraged to attend.
Respectfully submitted,
Deb Nash
- - - - - - - - - - - - - - - - - - - - - - - - - - - - - - - - - - -
February 2011

S70SS met today for brunch at the Beeches. We sat in the beautiful Michelina room and it was so nice. In attendance were the loyal and faithful die-hards: Karen Facciolo, Denise Desimone, Deb Nash and Deb Calandra.
This was a pretty uneventful get together. Mainly we discussed Denise's trip to Florida and Deb Calandra's trip to St. Thomas. Wanting to keep up with the Joneses, I mentioned I had made a trip to Utica. LOL! Karen shared her experience this past week or two with her very sick husband and we are so thankful he pulled out of it and is home now. We now call Karen Florence (Nightingale,get it ? LOL).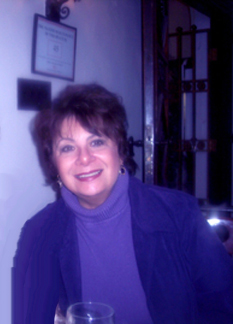 Oh yes, we talked about Corey Parrish's beautiful poem writing...Karen talked about how talented and amazing he was. Karen said she found her poem she had written as a senior in high school as an assignment...she got an A- on it, stick figures and all. Amazing how little they expected from us back then....
Debbie Calandra's daughter is due to have her baby the first of April, so we are all looking forward to hearing that news when the time comes. On another note, Denise was and is very angry with the United States Postal Service. She bought her little granddaughter a ballerina outfit and packaged it up and sent it to her in Albany. The package never arrived and apparently it was "lost", but my guess is there's a postal employee secretly cross dressing in a tu tu and ballerina slippers.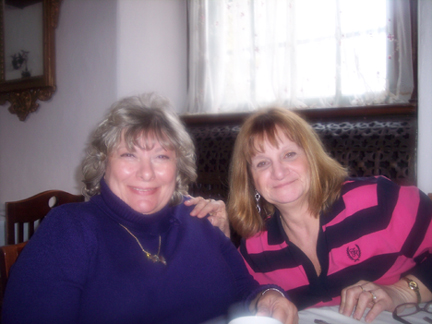 We talked about possibly doing a weekend trip, just us girls, to do wine tasting and perhaps the outlet stores at Waterloo. I suggested Boston but nobody bit on that. We also discussed possibly planning a cruise at some point, just the sisters of course. Karen asked if we should do a picnic this summer...not a reunion, just an informal picnic, bring your own food and drinks type of thing. We are going to come up with some possible dates to see who is available and when. We may have to do a few of these in order to catch those who live out of town and are coming into town at one time or another this summer. If anybody has any ideas or suggestions, feel free to share them.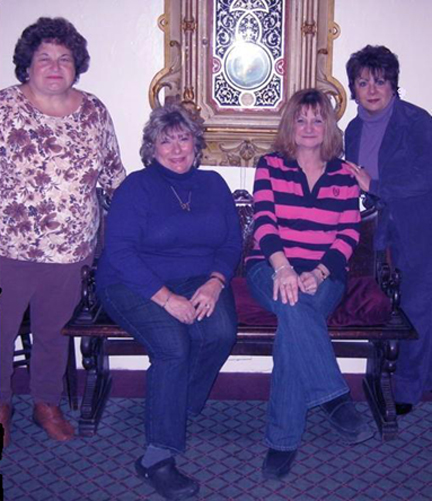 Our next dinner is on March 15th at the old Johnny Bravo's on East Dominick Street, across from the Toccolana Club. It will be at 6:00. We will be celebrating the birth of our little sweetheart, Karen. She will be 59... Hopefully more of the sisters will be able to make it to help us celebrate Karen's birthday!
Till next time..
Respectfully submitted,
Deb Nash

- - - - - - - - - - - - - - - - - - - - - - - - - - - - - - - - - - -
RCR Sisterhood night out Dec. 7, 2010

S70SS met last night at Bucky's for their monthly dinner meeting. In attendance were Karen Facciolo, Denise Desimone, Deb Nash, Deb Pugliese, Deb Calandra and Joanne Rosato. All were donned in their Christmas attire, except for Joanne who asked that the Christmas music be turned down, bah humbug. Kidding Joanne.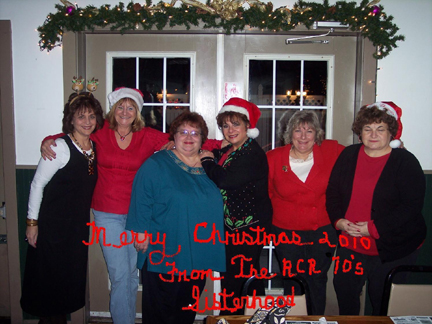 The confectinary sugar frosting recipe requested on the RCR was discussed. Some for the butter and others not. Christmas cookies were discussed and Deb Calandra said she had been up since 4:30 baking. Go Deb! Karen let out a dark secret from the past: she and Barb Flaver used to go to Barb's grandmother's house and raid the cookies in the freezer and then the poor old lady wondered where all her cookies went. Shame on you two! Karen also disclosed how she had worked with Joanne's son, sitting side by side with him and how, with her coulee pressed against the glass, how fogged it up. Shame on you again you little cougar. Karen also told us about driving herself to the ER a few weeks ago...having had a horrible headache and thinking she may be having some kind of aneurism or stroke or something...didn't bother to wake the hubby up or call anybody so as not to disturb anyone. What a trooper! She finally called her husband after she knew he was up to tell him where she was. Thankfully ended up being a terrible migraine but nothing life threatening and she is doing well. Thanks be to God...we don't want anything to happen to our little "cougar."
Dinner was absolutely delicious, but then Bucky always provides good food. Karen and I always seem to order the same EXACT meals, right down to the dressing on our salads. Gifts were exchanged. Karen opened her gift, held it up and said, "Oh how pretty…" Debbie Pugliese looked up at the gift (as she had brought it) and looked at Karen and said, "It's upside down."

I was fortunate to draw the gift that Denise had brought and had made herself. I will always think of her when I look at it year after year. Karen brought little green glass balls for our trees with "RCR Sisterhood 2010" hand written on them. That was an awesome idea Karen. Deb Calandra brought us all jelly candy in a variety of Christmas figures on a stick.. It is adorable…too adorable to eat! Thanks to all for such a nice night. We laughed and laughed and laughed and I have to say, the sistas who choose not to attend are missing out on so much. I myself feel very blessed to have these women in my life.





In lieu of our monthly dinner meeting in January, we will plan on a happy hour at Buckys on January 14th, Friday night. We will plan on meeting between 5 and 5:30 that evening, and all classmates are welcomed and encouraged to attend, men and women alike.





At Debbie Hall's request, our February monthly meeting for the sistas will be on February 27th at the Beeches for brunch. We will plan on meeting there at 12:00 noon. We are hoping that some of our sistas from out of town will be able to attend. Please let us know as we will make sure we have a table set aside for us. All female members of RCR are invited to attend.

Respectfully submitted,
Deb Nash

- - - - - - - - - - - - - - - - - - - - - - - - - - - - - - - - - - -
Celebrating Debbie Nash's birthday November 10, 2010


The Sistas of the 70s Social Society met at Michalina's last night, November 10th. In attendance were Karen, Debbie Calandra and me, myself and I. Luckily we had made reservations for six, otherwise, we would have had to be crowded at the table as only five of us gave us room to sit our purses and coats.
Many topics were discussed; lots of personal issues brought up and talked about. That's one consolation of a small gathering...everybody has time to spill their guts. Local Sistas who don't attend our meetings are really missing out on some good times and some real bonding. I, for one, have grown to love these girls like sisters.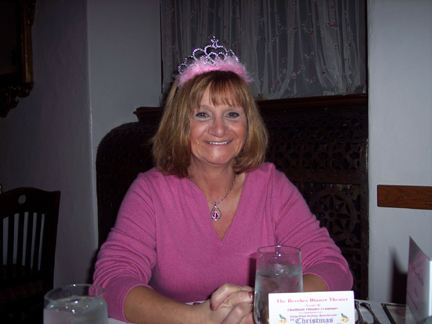 Birthday Princess Debbie Nash
Karen brought a beautiful jeweled Princess Tiara for me to wear: it was my birthday as most of you MUST know from all the emails yesterday. The waitresses called me Princess and it was pretty cool. Karen is one of the nicest people you will ever meet (smile). We discovered we think alike and in fact ordered the same exact meal and dessert. Debbie C. went and sat at another table because she felt like she didn't fit in with us...kidding.
We talked about how our memory is going fast...and...hmmmmmmmm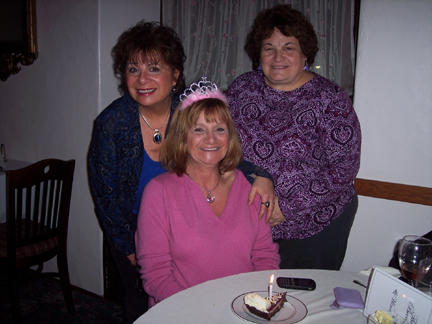 Karen Facciolo, Debbie Calandra, Debbie Nash
Karen and I kept watching people at the bar so we could rent some people to be in our party and take pictures so it looked like we had a bunch of people. Unfortunately, the only ones at the bar were younger women and we didn't think we'd look to good in a picture with them. As we got up to leave, suddenly, in walked three people: two guys and a girl. Karen and I looked at each other and you could see two great minds at work as we both conjured up the same idea: GET THE CAMERA! So, we went over laughing and asked if they could be our rentals and they were good sports, loved being our rental party attendees and wished me Happy Birthday as they posed for pictures.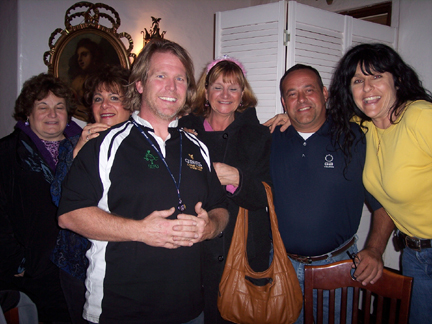 Group Picture (people we rented to join the party)
A Christmas get together Happy Hour was discussed for everybody, not just the Sistas. We talked about perhaps December 17 for Happy Hour but then it was brought up that that's around the time people attend work Christmas parties so we discussed having a New Year get together happy hour after the holidays for all members of RCR. More on that to follow next month.
The next dinner meeting of the S70SS will be held on Tuesday, December 7th at Bucky's at 5:30 pm. Please bring a $10 gift to exchange. We figured then we are set for the month when we have to exchange at work and other places...we just keep regifting and it only cost us $10.
Hope to see lots more Sistas there! Till next time...
Fondly,
Deb Nash
- - - - - - - - - - - - - - - - - - - - - - - - - - - - - - - - - - -
Sisterhood's night out Oct 2010

S70SS met last night for their monthly dinner meeting. In attendance were Karen Facciolo, Denise Desimone, Deb Nash, Deb Pugliese, Deb Durgan and Deb Calandra. Denise drove the group so she could use the gas left in her car before she traded it in today. Sausage and the difference in the size of sausage links was discussed. Deb Calandra told us about the dinner she made for her family and how she brought Joy to the table. The possibility of having a covered dish picnic next summer was suggested.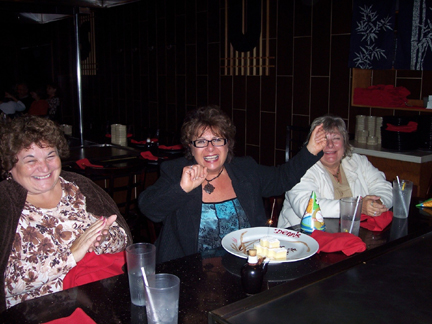 Birthday Dance
Dinner was at Sumos in the Hibachi Room in celebration of the birthday of our beloved Dennis, who could not be there. Karen stood in for him. The group wore party hats and had their pictures taken while the rest of the adults in the room looked on wondering what the hell was going on.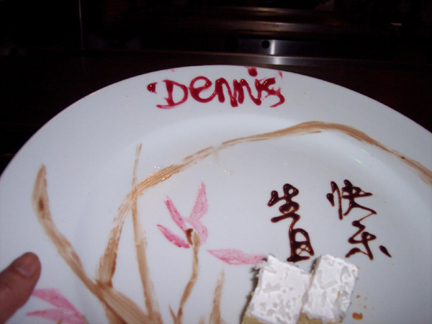 cake for Dennis
Dinner was amazingly delicious. There wasn't much conversation due to the entertainment provided by the chef, so not much to report as far as that goes. Deb Pugliese told about how she has ventured into a new business: laundry/stain removal. Denise got a new Lincoln; in fact, picked it up today. We talked about Deb Hall's new edition, Elvis...congratulations Deb!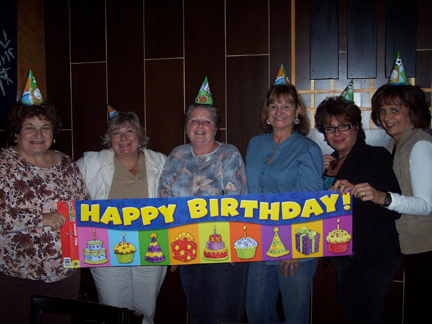 Happy Birthday Dennis

Karen, a/k/a Dennis, was the guest of honor and got a little more food than the rest of us. She also got a lot more saki. At the end of our meal, two of the cooks came out of the back room with birthday cake, wearing hats and playing drums. One of them put the big black hat on Karen (a/k/a Dennis) and tilted her head backwards and tried to drown her with saki. She sucked it all down (said it was either that or get it all over her shirt, he he he). The whole room was clapping and yelling for more, but Karen had her fill of saki and that was that.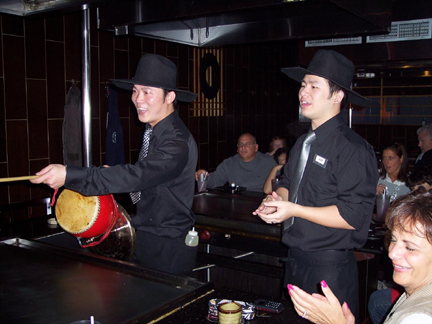 Let's Dance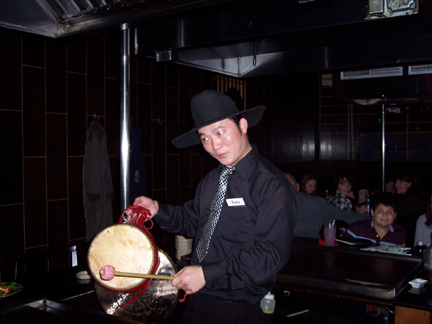 Me Saki You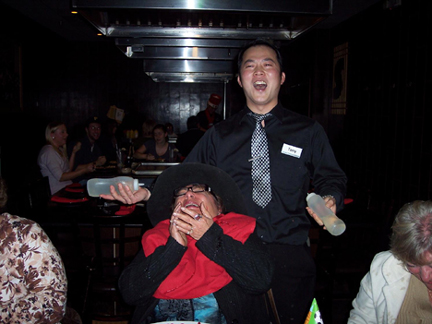 Saki Bath
From there, off to Ann Taylor Loft so I could look for jeans and then on to Pet Smart. Denise took the scenic route, so we went around in a few circles before reaching our destinations.


The next dinner meeting will be on November 10th, Deb Nash's birthday (guess how old), place and time to be decided at a later date. All female members of RCR are invited to attend.
Respectfully submitted,
Deb Nash

- - - - - - - - - - - - - - - - - - - - - - - - - - - - - - - - - - -
Sisterhood of 1970 outing on Sept 8 2010

The Sisterhood of 70 Social Society (a/k/a S70SS) was held last night at Sammy G's in Rome. The meeting was held earlier than the usual monthly meeting in honor of Deb Durgan, who is leaving this week to go back home to North Carolina, and who didn't surface despite efforts to contact her with place and time. Have a safe trip Deb.
In attendance were Deb Nash, Debbie Calandra DiCaprio (wife of Rich who gets mistaken for Leonardo and gets tons of porn offerings on his computer), Debbie Pugliese, Dianne Bartolotti and Karen Facciolo.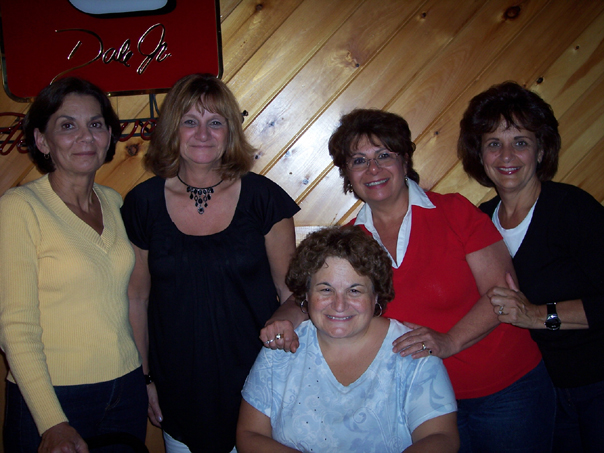 Dianne Bartolotti - Deb Nash - Deb Calandra - Karen Facciolo - Deb Pugliese

While Deb N. fought off the single fly that was tormenting the group, trying to end its' life with the menu, several topics were discussed.
Death and the afterlife were discussed and Karen shared the horriffic story of her dog who ate her mother, the Cardinal. Everyone gasped as she shared that experience.
Childhood experiences with friends and family were shared. Karen asked Deb C. if she remembered signing up for Christmas gifts at the Salvation Army. Seems Deb C. blocked it from her psyche.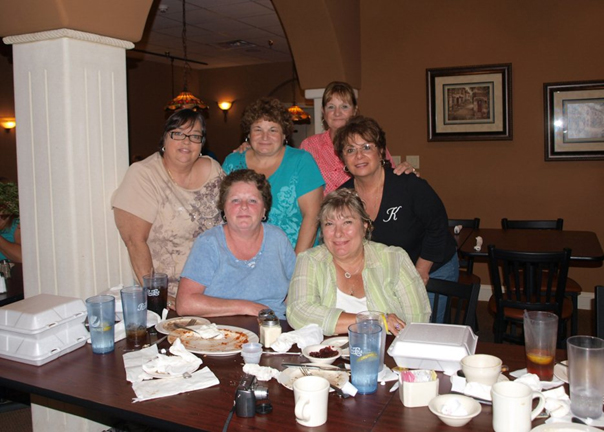 standing - Deb Hall - Deb Calandra - Deb Nash - Karen Facciolo
seated at what appears to be a table - Deb Durgan - Denise DeSimone
Karen showed us her "gangy?" and Debbie P. told Karen it runs in the family and that it's a fatty tumor that moves, just smash it with a book and it will disperse.
Happy pills were discussed. Seems Cymbalta is the pill of choice, but paxil and lexapro got honorable mention.
The waitress brought the bill and Deb N. got her cell phone out and used the "tools" feature to figure out how much each owed with the tip. Debbie C. did it in her head and shouted out $14 each. Deb N. continued on and a minute later looked up and said $14 each. Everyone laughed and Debbie P. leaned into Deb N. and said "you just wanted to see it in print, that's ok."
After a group picture the girls dispersed. The next meeting will be held on October 6th at Sumo's in Utica for a fun night of hibachi. Time to be determined at a later date. All female members of RCR are invited to attend.