Sandra Slobodian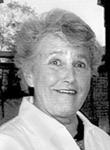 1942 - 2009

Sandra S. Throop Aug. 19, 2009


Sandra S. Throop, of Vernon, passed away Wednesday, August 19, 2009, after a brief illness. Born October 18, 1942, in Rome, she was the daughter of Charles and Stephanie Szafarz Slobodian. On November 24, 1982, she was united in marriage to Robert J. Throop at St. Johnís Lutheran Church.
Sandy was a 1960 graduate of Rome Free Academy. She then graduated from Trinity College in Burlington, VT. In her earlier years, she worked as a teacher and later as a hostess at the Alexander Hamilton Inn and most recently as a librarian at the Sherrill Kenwood Free Library.
Besides her husband, she is survived by her daughter, Beth Anne James of Reston, VA; her son, Christopher James of Manhattan Beach, CA; two brothers and sisters-in-law, Charles (Bud) and Sandy Slobodian of Huntington Beach, CA and Paul and Kelly Slobodian of Vestal, NY and New Bern, NC; several nieces and nephews; and many dear friends.
Her family will greet friends from 2 to 4 p.m. and 6 to 8 p.m. Sunday, August 23, at Strong and Burns Funeral Home, 401 N. George Street, Rome, NY. The funeral service will be held at St. Johnís Lutheran Church, 502 Chestnut Street, Rome, NY on Monday, August 24, at 11:00 a.m. Contributions in Sandyís name may be made to Sherrill Kenwood Free Library, 543 Sherrill Road, Sherrill, NY 13461.


- - - - - - - - - - - - - - - - - - - - - - -
Miss Slobodian was one of my teachers at Staley when I attended in 7th grade. I was a bit of a pest in her class, but at times I was able to make her smile and sometimes laugh. One night, the same night as a Staley dance for the students, I attended a viewing at a funeral home for one of the 7th grade students that died in a horrible accident. I had never attended one before and it disturbed me greatly at the time. Following the viewing, I went to the dance. I saw Miss Slobodian and walked over to speak with her. She may have asked why I showed up late, not sure, but I do know I started talking about where I was prior and totally broke down in tears when telling her about the viewing. She walked me out of the gym to speak with me and I remember her eyes tearing up as well. It was a moment in time I'll never forget and so appreciated.
I moved from Rome, NY in 1966 and on several visits back to Rome, NY in my late teens and 20's, I always tried looking her up. I depended on the phone book and didn't have any luck. One time, I walked into Staley, maybe mid 70's, and introduced myself at the main office. I asked if anyone remembered her and knew her whereabouts. The first person I asked knew her, telling me she no longer taught nor lived in Rome. If i remember correctly, he said she had something to do with a movie theater.
I'll never forget you Miss Slobodian. I wish I had been able to reach you to share the memory.
Dennis Parrish