Ruth Demers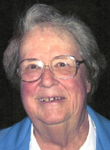 December 9, 1932 - March 13, 2016

Ruth M. Demers, 83, of Rome, passed away on March 13, 2016, at Rome Memorial Hospital.
She was born on December 9, 1932, in Berlin, New Hampshire, a daughter of Alfred and Teresa Keenan Demers, both of Irish and French descent. Ruth graduated from Berlin High School in 1951, she went on to earn a Bachelor's degree in Physical Education from the University of New Hampshire and received a Master's degree in Education from Syracuse University.
She taught physical education in Lake George, Boonville and Rome Free Academy. For 32 years she coached girl's basketball, golf, tennis, softball, gymnastics and volleyball. Ruth retired from teaching physical education in 1988. She inherited her love of sports from her father, who played semi-pro baseball.
For 27 years Ruth served as Executive Director of the Rome Sports Hall of Fame and Museum. She was a member of St. Mary's / St. Peters Catholic Church, Rome. Ruth also was an organist at St. James Major Catholic Church, in Lake Pleasant. She enjoyed camping at Evergreen Lake Trailer Park in Piseco, N.Y. Ruth also enjoyed photographing nature, she had a series of wild flower cards that were published as reference cards.
She is survived by godchildren; Jay Chapin, Christopher Chapin, Matt Chapin and Cory Jayson; cherished friends Barbara Smith, Alberta Menickelli, P.K. Cullin, Cathy Murphy, Frank Anderson, Stephanie Marchione and Bobbie Wagner.
Memorial contributions may be made to Rome Sports Hall of Fame and Museum, P.O. Box 774 Rome, N.Y. 13442 or donations of clothing to Mission of the Christ Child c/o St. Peters Church 105 East Liberty Street Rome, New York 13440.
Funeral services will be held on Monday, March 21, 2016 at St. Peters Church at 10 A.M. with Rev Philip Hearn officiating. There are no calling hours. Arrangements by Strong – Burns & Sprock Funeral Home, 7751 Merrick Road, Rome.

- - - - - - - - - - - - - - - - - - - - - -
Let me tell you I loved Ruth Demers my tennis coach ! I will always remember her , she was great to me such fun ! So I am saddened by her passing. - Joan Serino