Patty Patane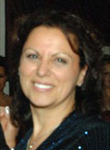 March 15, 1952 - November 6, 2013

Patricia Patane Bravo, 61 of Utica, passed away Wednesday November 6, 2013 at home after a courageous battle with breast cancer, with her family by her side. She was born in Rome, NY, on March 15, 1952, daughter of the late Joseph and Catherine Calandra Patane. On July 21, 1988 she married Vincent Bravo in Rome, NY, he passed away March 30, 1994.
Patricia was an avid New York Yankees fan. She enjoyed spending time with her family, Sunday dinners with the family, reading and going out with her fiancé Carmen.
Surviving are a son and daughter-in-law, Angelo and Cathy Ciotti, New York Mills; two daughters and sons-in-law, Jaime Ciotti and Douglas Belton, Utica, Paulette and Matthew Johnson, Camden; grandchildren Jamez, Aziyah, Nylah, Matthew Jr., Anzleigh, Emma, Ryan and Hannah. Also surviving are two sisters Donna Queen, Rome and Rosemary Cottrell, Fayetteville; her fiancé, Carmen Longo, Utica; nieces and nephews Ronda, Suguar, Tony, April, Rebecca, Phillip and Tesla. She was predeceased by her husband Vincent Bravo, and parents Joseph and Catherine Patane.
The family would like to express a special thank you to all her family and friends for their support. Also the doctors and nurses at Faxton-St. Luke's Healthcare. A special thanks to Windy and Kim.
Funeral Services will be held on Monday at 8:45 a.m. from the Nicholas J. Bush Funeral Home, Inc., 218 W. Court St., and at St. John the Baptist Church, 210 E. Dominick St., where a Mass of Christian Burial will be celebrated at 9:30 a.m. by the Rev. Paul F. Angelicchio. Burial will be in St. John the Baptist Cemetery. Friends may call at the funeral home on Sunday from 2-5 p.m.
Memorial contributions may be made to Susan G. Komen for the Cure, 5005 LBJ Freeway Suite 250, Dallas, TX 75244.
To offer online condolences, please visit www.njbushfuneralhome.com