Joseph Skwarek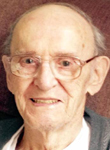 April 14, 1923 - February 28, 2016

Joseph A. Skwarek, 92, of Rome, passed away peacefully on Sunday, February 28, 2016. He was born on April 14, 1923 in Rome. He was a graduate of St. Aloysius Academy and went to Ithaca College on an athletic scholarship and was a three sport performer. He also earned varsity letters at Hobart College while with the Navy V-12 program. On June 9, 1951 he married Barbara Hartigan in Farmingdale, LI. She passed away on July 1, 1998.

Joe enlisted in the Navy during World War II and was commissioned as a deck officer from the Cornell University Midshipman School, serving in the Mediterranean Theater with the amphibious fleet.

After being honorably discharged from the Navy, Joe became a member of the physical education department of the Rome City School District in 1948. During his 40 year career he coached a variety of varsity and modified teams, including baseball, basketball, football and cross country and spent 18 years as an athletic trainer for the football team. Coach Skwarek led the RFA Black Knights varsity baseball team for 27 seasons and led them to seven COL championships and a Section III title. He was also the first cross country coach at RFA.

Coach Skwarek was active in the community. He was on the fundraising committees for RFA Stadium and Kennedy Arena and spent 16 years as the assistant to the superintendent of recreation of the City of Rome and two years as superintendent. In 2004, he was inducted into the Rome Sports Hall of Fame.

Joe is survived by two sons and daughters-in-law, Gary M. and Sandra K. Skwarek and Joseph M. and Rita L. Hartigan; two grandchildren, Alex and Jessica Skwarek; a half brother, Frank Civiok; and several nieces and nephews. He was predeceased by three sisters, Helen Domagal, Jane Kozik and Mary Anne Belensky.

Funeral services will be held on Thursday from Nunn and Harper Funeral Home, Inc., 418 N. George St., Rome, at 10:30 a.m. followed by a Mass of Christian Burial at Transfiguration Church at 11:00 a.m., with the Rev. Paul Angelicchio officiating. Interment will take place in St. Mary's Cemetery. Family and friends are invited to call at the funeral home on Wednesday from 5-7 p.m.