Jim VanDresar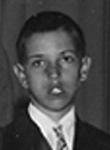 August 7, 1951 - September 2, 2003




FORT THOMAS - James Stuart VanDresar Sr., 52, a Vietnam War Marine veteran, died Tuesday at his home.
Surviving are a son, James Jr. of Burlington; a daughter, Angella Voelker of Covington; brothers, Carl, Thomas and Stuart Jr., all of Rome, N.Y.; sisters, Darlene VanDresar of Rome, N.Y., Pamela VanDresar and Colleen Price, both of Utica, N.Y., and Dawn VanDresar of Fayetteville, N.Y.; and three grandchildren.
Memorial service will be 11 a.m. Saturday at Stith Funeral Home in Florence. Mr. VanDresar's remains will be cremated.