Henry J. Getek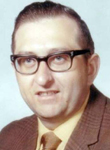 June 25, 1936 - June 26, 2017

Henry J. Getek, 80, of Rome, passed away at home on Saturday, June 24, 2017. He was born June 25, 1936 in Utica, the son of the late Frank and Helen LaSota Getek. Henry was a graduate of Our Lady of Lourdes Elementary School and St. Francis De Sales High School. After high school, he served in the US Air Force during the Korean War from 1954-1958. Upon returning home from the Air Force, Henry enrolled at Utica College and graduated in 1963 with a BA in Social Studies Education and he went on to earn a Masterís Degree in Social Studies Education from Syracuse University in 1968. On November 18, 1967 he was united in marriage to Barbara Kaczowka in Transfiguration Church.

Mr. Getek taught for the Rome City School District at Strough Junior High from 1964 to 1995.

Henry was a member of the NYS Teachers Association, the Rome Teachers Association, St. Paulís Church, and the Knights of Columbus. He enjoyed bowling and playing golf. He was also an avid NY Yankees fan.

Surviving besides his beloved wife of 49 years, Barbara, is a brother and sister-in-law, Fred and Janet Getek of Rome; a sister-in-law, Lorraine Bailey of Centreville, VA; and several nieces and nephews.

A Mass of Christian Burial will be held on Tuesday at 11:00AM at St. Paulís Church. Interment will take place in St. Maryís Cemetery. There are no calling hours. Contributions in Henryís memory may be made to the St. Paulís Church Memorial Fund.

You may light a candle, send a message of sympathy and view the obituary at www.nunnandharper.com.