Edmund Dwight Weed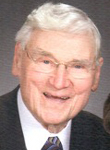 July 3, 1925 - December 11, 2013

Edmund Dwight Weed, 88, passed away peacefully with his family by his side on December 11, 2013 at the Siegenthaler Center of Hospice in New Hartford.
He was born in Norwich on July 3, 1925, the son of the late Harold and Ruth Hall Weed. He graduated from Norwich High School in 1942 where he was on the football, baseball and wrestling teams.
Ed joined the Navy November 13, 1942 and served as crew member of a PBM Martin Mariner stationed at the Quonset Point Naval Air Station, RI. Their mission was to provide air cover for the convoys of troop and supply ships going to England. His next assignment was the protection of the Panama Canal, flying in a triangular pattern from Nicaragua to the Galapagos Islands to Ecuador and back. His squadron was then sent to the Pacific where they trained to rescue downed airmen for the expected invasion of Japan. He was honorably discharged in January of 1946. Ed graduated from Ithaca College in 1949 with a BS in Physical Education and a Masterís Degree in 1950. While at Ithaca he was captain of both the football and wrestling teams.
In 1951 Ed came to Rome to teach Physical Education and was tasked with starting a varsity wrestling program. Over the course of his career he coached football, wrestling and track, and was a wrestling official. He continued officiating even in retirement. He was inducted into the Section III Wrestling Hall of Fame and the Rome Sports Hall of Fame. Ed retired after 32 years of teaching but his interest in mentoring young people continued throughout his life. Being an avid skier, he enjoyed coaching the Alpine Ski Team at Woods Valley and taking groups of teens on ski trips through the Elks Club. Since the early 1970s Ed was an enthusiastic volunteer with the Special Olympics. He thoroughly enjoyed the challenge of a good Bridge game with friends and at the Ava Dorfman Senior Center. Attending the social events of the Tramp & Trail Club of Utica with his wife was very important to Ed.
Ed was an active member of the First Presbyterian Church, serving as an Elder and Deacon. He was a Life Member of the Rome Elks Club, and a member of the Rome Rotary Club, where he was recognized as a Paul Harris Fellow, the Lake Delta Yacht Club, and the Griffiss Ski Club. Combining his love of travel with his passion for skiing he took his family on many ski trips around this country, Canada, and Europe. He spent time in Alaska, Korea, Turkey Greece, Germany, and England.
Predeceased by his wife of 39 years, Clare Varga, his sister Betsey Kelly, and his step-son J. Patrick McNamara, Ed is survived by his second wife, the former Nancy McNamara; his daughters, Claudette (Richard) Wielechowski, North Platte, NE, Bonnie (Charles) McGinnis, Novi, MI, Anne Marie (John) Watson, Gansevoort, NY; step-children, Maggie (Phil) Telander, Michael (Ann-Marie) McNamara, Sean (Deborah) McNamara, Terence McNamara and his companion, Jennifer DeProspro. He also leaves sixteen grandchildren, Wendy (Andrew) Snodgrass, Elizabeth (Christopher) Kolomitz, Laura and Katherine Wielechowski, Kimberly McGinnis, Christopher and Sarah Watson, Christopher, Craig, Michael, Anna Lyn, Patrick, Jeffrey, Ryan, and Karsen McNamara, Gwendolyn (James) Murphy; and one great-grandson, James A. Murphy.
A Memorial Service will be held at 11 a.m. on Saturday, January 11, 2014 at the First Presbyterian Church, 108 W. Court St., Rome.
In lieu of flowers, contributions in Edís memory may be made to the First Presbyterian Church Memorial Fund, Hospice and Palliative Care of New Hartford, or the Rome Sports Hall of Fame.
Arrangements have been entrusted to Nunn and Harper Funeral Home, Inc., 418 N. George St., Rome.
You may view the obituary and send a message of sympathy at www.nunnandharper.com.